Interfaith for Peace
Saturday, November 16, 11:30 a.m.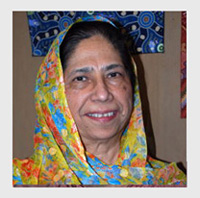 Please join this ecumenical group as they offer prayers of peace from many faiths. The intention is to focus on the shared aspirations of religious traditions and promote interfaith dialogue. Lively conversation follows when we enjoy a homemade meal.
If you plan to attend or would like to represent your tradition by speaking, please RSVP to Mazher at hmahmed@hotmail.com.
Mazher F. Ahmed was born and educated in India. Believing that interreligious work is essentially about breaking down barriers and building bridges, she is involved in a number of interfaith endeavors. Mazher has worked with the Council for a Parliament of the World's Religions since 1990 and is an emeritus trustee for the Council.
Donations appreciated.