Orphaned Baby Owl
Thursday, 29 March 2012 13:46
Placed in a Nest at Grounds of The Theosophical Society in America
By Angelique Boyd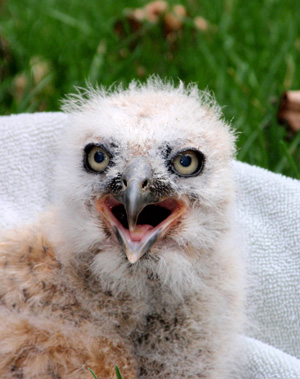 On March 16th a baby Great Horned (owlet) was found at the foot of a pine tree at the Theosophical Society in America (TSA) in Wheaton. It was about one week old with white fluffy feathers, black and brown tiny dots, and striking gold eyes.
Michele Shields, from the Information Department of TSA, picked up the owlet and brought it in to the Willowbrook Wildlife Center (WWC) for observation and care. On the 19th, she received a call from the WWC saying that the owlet was having vision problems due to the fall. They said that they would place the owlet back into the wild after its vision had been restored.
Before the news of the owlet's vision, a second owlet fell out of the same tree. Unfortunately, it died soon afterwards. A burial was made for the baby owl.
On March 22nd the WWC called the TSA to say that they had recovered another little owlet that had fallen at a different location, and asked if they could put the orphan owlet in the nest at the TSA grounds. When placed in the nest owls are open to adopting owlets and will accept and raise them like their own.
Great Horned Owls do not build their own nests. Normally they simply move in to an existing squirrel's nest. If the nest becomes damaged by wind or storms, they do not repair it. In the case of the nest at the Theosophical Society's campus one side of the nest had developed an opening and the bottom had slanted in that direction. As soon as the owlets became big enough to start moving around it fell through the hole.
A tree climber from the Dupage Forest Preserve accompanied Rose Augustine from WWC. He placed the existing nest in a shallow wooden box to make a safe new home for the orphan owlet. Members of the TSA community and children from the Prairie School of Dupage, which operates on the TSA campus, looked on as the baby owl was restored to the nest.
Some days later, Pablo Sender, a TSA staff member, climbed the tall pine tree to check on the owlet. Here is a video of what he found.

More videos
To watch Rose Augustine from WWC sharing some valuable information with the children from the Prairie School of Dupage, click here
To watch the owlet travelling towards the nest u pon the tree, click here

To enlarge, click on first picture and then click the "next" arrow.