New E-book About the Olcott Campus
Monday, 21 May 2012 15:49
By Janet Kerschner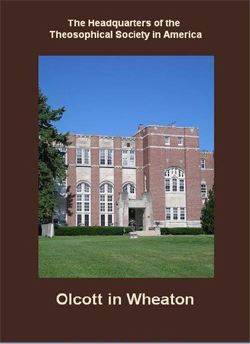 Our campus is featured in a new e-book called "Olcott in Wheaton" that has been published by Jan Kind and his crew at Theosophy Forward. For those of you who have not read Theosophy Forward, it is an online quarterly periodical founded by Jan Kind, John Algeo, and others on several continents - a truly 21st-century kind of publication. In addition to the periodical, the TF staff produces "Special Editions" which are e-books.

The link to Theosophy Forward is http://www.theosophyforward.com/. Click on the "Olcott in Wheaton" option to go the the Special Editions page, where you can choose to view the booklet with free DNL Reader page-turning software, or to download a PDF. The DNL Reader works very well (except on Apple computers) and allows you to "View additional photos" and "Go back to text". All the photos are also available in the PDF version, but they are clustered at the end of the text. It is well worth the moments it takes to install DNL Reader, to facilitate reading this and TF's other publications.

The photos are from our archival collection, the introduction was written by Tim Boyd, and I wrote the text. I hope that it serves as a good introduction to Olcott. Our campus is very photogenic, so enjoy the illustrations!