The Power of Nature
Thursday, 05 July 2012 14:55
By Juliana Cesano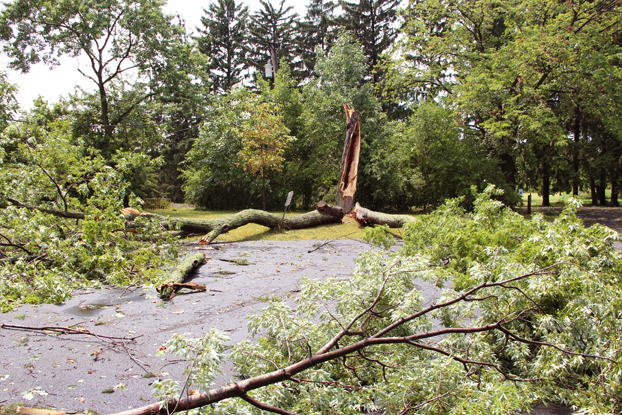 Late on Sunday morning, July 1, we were surprised by unanticipated heavy clouds. In a matter of minutes, while some of us where at home and others in their respective rooms at the National Center, the sky turned unusually dark. The season has been quite dry so far, so we were all hoping for some rain. What we did not know was that this time rain would not be coming from above but would be seen traveling horizontally accompanied by a 100 mile-per-hour wind. We were bearing witness to the most powerful storm of the last 4 years.
After the storm passed and the sky cleared, the residents came outside to witness the extent of the destruction. It took nature only fifteen minutes to radically change the landscape around us and to leave more than 250,000 people in the area without power. Around 50 trees on TS property were either uprooted or split in half. A couple of 60-foot pines landed on some unfortunate cars, but most of the other trees crashed onto the road or the ground, creating nothing but sadness and a great amount of work for our grounds and maintenance department.
With no power on campus, many of our office staff arriving on Monday spent the morning helping with the cleanup process—hauling branches and clearing the roadways and parking areas. By the end of Tuesday, we had most of the debris immediately around the buildings cleaned into neat brush piles. The electric company worked hard to restore power to the area, but for some of us the wait wasn't over until Tuesday evening. Our computer network suffered some damage from the power fluctuation as well, but we were able to restore network functionality in time for work on Thursday morning. In many ways, this was a reminder of our great dependence on electricity and how much we take the comforts that come with it for granted.
Nobody was hurt when the storm ripped through, and we are very thankful for that. It was interesting to see that none of the TS structures were touched or even scratched. Observing the pattern of trees downed, it even seems as if we have had some invisible protection guarding the buildings and houses.
Although relatively small in scale, the eminent power of nature was once more revealed, leaving us with a strong sensation of being a small part of a much greater life and power.
To enlarge, click on first picture and then click the "next" arrow.