2008 Tibet Daily Travelogue
Tibet Daily Travelogue
by Tim Boyd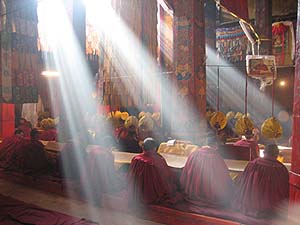 Little is known about Blavatsky's travels in Tibet. We know that she entered Tibet on three occasions and met the Panchen Lama at the Tashi Lumpo monastery in Shigatse. The two Masters responsible for the founding of the Theosophical Society also lived near Shigatse, and that travel was an arduous affair for her. However, the imprint of Tibetan spirituality and practice is deeply embedded in the teachings and worldview that Blavatsky transmitted which we recognize as contemporary Theosophy. Our pilgrimage took us through central and southwestern Tibet to places HPB most likely visited and put us in touch with numerous power spots of some of the great Tibetan masters to whom she referred in her writings: Atisha, Tsongkapa, Padmasambhava, various Dalai Lamas, and others. We all came away with a sense of connection to a vibrant and potent spiritual heritage. What follows is a daily travelogue of some of our adventures. Enjoy.
Day 1 (10/5/08)
Chengdu, China
A city of 12 million. One full day. There are 10 people in our party: Sarah Radish from San Francisco, Carla Mumma from Topeka, Vance Russell from Detroit, Vladka Shikova from Washington, D. C. by way of Bulgaria, Joanne (Jet) Tyler from Palm Springs, CA, Joan Michie who went on last year's pilgrimage from Washington, D. C., Olivia Hansen from Denver, Sue Miller from Mendocino, CA, John Knebel from Aurora, IL, and me. Spent the day touring the Panda Reserve, Peoples Park, and Jinli Street in Old Chengdu. We finished the night attending a show featuring elaborate and fantastic costumes and makeup, acrobatics, song, and puppetry.
Day 2
Lhasa, Tibet
We flew about 2 hours from Chengdu. Glenn Mullin, our tour leader, met us at the airport with our 2 Tibetan guides, Gyatso and Kunshok. Unlike last year's pilgrimage these guides were not Chinese secret police. Lhasa is 12,000 feet above sea level. So, everyone had given a good deal of thought to altitude sickness, everyone, that is, except me. Some years ago I had spent time in the Andes Mountains at a similar altitude. I hadn't had a problem then, so why worry now? Logical, but wrong.
Our first afternoon, we took it easy so that people could acclimate. After checking into our hotel, we visited the Barkhor, the central square in Old Lhasa. The Barkhor surrounds the Jokhang which for Tibetans is their most sacred temple. At all hours, but especially in the morning and evening, pilgrims are doing kora (circumambulations) around the Jokhang. For the hundreds of people walking around the Jokhang, it is as much a religious as a social practice. It is a time to meet with neighbors and hear the latest news as well as to say prayers. If someone just walked at a normal pace, one kora would take about 15-20 minutes.
When doing the kora everybody walks in the same direction: clockwise. Actually, the same direction of travel applies outside or inside of any temple or sacred place. The pilgrims doing their kora all say prayers and repeat mantra. Some do prostrations, generally full body prostrations where one kneels then stretches out flat, face down on the ground. The more serious prostrators employ various devices. Often they will have pads or pieces of wood on the palms of their hands to prevent the skin from being worn off on the rough stone pavement. Some have kneepads of the homemade variety. The most serious, however, use none of this, and are easily recognized. They have knelt, stretched out flat, and touched their heads to the ground so many times that they have a formidable patch of calloused skin in the center of their foreheads!
Actually the form and timing of the prostrations varies from pilgrim to pilgrim. Some walk a few steps, prostrate, and walk some more. Others do all of their prostrations in one spot, generally in front of the temple, while some prostrate every step. One pair of pilgrims I saw that first day had their own approach. Two young men, in their 20s, would do a prostration every step of the way, but two things about them were different. First, they were doing it all sideways; that is they would prostrate, then take a side step; then they would repeat it all again. The second difference was that one of the young men had only one leg.
As the day wore on, I went from feeling a little light headed to having a mild headache, to waking up at 2 a.m. with a splitting headache, feverish and mildly nauseous: altitude sickness. I ended up doing what I should have done in the first place-- taking Diamox. It worked.
Before going out for dinner, my roommate, John, and I were lying down taking a short nap. At 7:10 the building shook. The shaking lasted a few seconds. We both sat up and said, "Earthquake." Still a little uneasy, we lay back down. About 20 minutes later the building shook again, a little lighter this time. It turned out that there had been a 6.8 quake about 60 miles away that destroyed numerous houses and caused a number of deaths. Of course, this was the talk at dinner. We returned to the hotel and settled in after our first exciting day in Tibet. I had just drifted off to sleep when the phone rang. It was the front desk. They were calling every room to say that the Tourism Bureau had called to warn of possible aftershocks. They said we should sleep in our clothes just in case. At 3 a.m. there was a mild aftershock. Lying awake with altitude sickness, I felt it. No one else in the group did, they were all sound asleep.
Day 3
Today we went inside of the Jokhang. In the morning, the square was unusually full of people. It turned out that after the earthquake many people were afraid to go home. They came to the Barkhor to sleep and pray for the safety of their homes. There were long lines of pilgrims of all types queued up to make the rounds of the numerous temples within the Jokhang building. Some were clearly local city folks; some were from rural areas. Others were nomads with their long hair, coral and turquoise ornaments, and different clothes. Glenn, who is completely fluent in Tibetan, would talk and joke with the lamas and monks. Inevitably, the monk would stop the advancing line, motion for our group to cut in, then let the rest of the waiting crowd resume. After this happened a couple of times, I began to feel a little uneasy about jumping ahead of everyone who had been patiently waiting. No one in line seemed to have a problem with it. Actually, they seemed to delight in gathering around and listening to this white haired, red-faced, Canadian Irishman laugh and joke in their language. Still, I mentioned it to Glenn. He said that the monks and the people in line realize that a group such as ours may have traveled thousands of miles, and have only one day to visit. They make allowances. No one got upset, or felt that their rights were being trampled. It all seemed very un-American.
The Jokhang, like most of the larger temple structures have numerous individual temples within it dedicated to specific enlightened beings, protectors, high lamas, or saints. Images, both sculpted and painted, are everywhere. Every inch of wall and ceiling is brightly painted with images of clouds, beings, mandalas, or decorative patterns. Colorful silk banners, three stories high, hang in various places. Color, pattern, and images crowd in around you. The central image inside the building is a 30-foot high gilded image of Maitreya Buddha. On a balcony platform, level with Maitreya's crown, we meditated.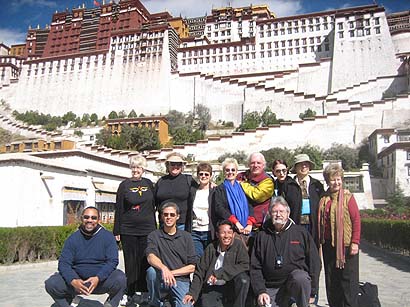 TSA Group
Day 4
After breakfast we walked a few blocks to another section of Old Lhasa. Our destination was the Ramoche. Our hotel is on a main street, Beijing Street, in the Tibetan section of Lhasa. I was not an expert on Tibetan history or politics when I went, and did not become one while I was there, but certain features of Tibetan/Chinese relations are apparent. The population in the urban centers of Tibet at this point is predominantly ethnic Chinese.
Glenn's policy is to bring his tour groups to Tibetan owned businesses whenever possible. Every block or two there are small streets or alleyways that lead to the different sections of the old (Tibetan) city. At each of these entry points, several Chinese soldiers are stationed 24 hours a day, mostly in riot gear. At regular intervals groups of 6-10 soldiers march through the main squares. Trucks loaded with troops also make regular rounds on the main streets in the Tibetan section. Though they are not openly aggressive, they serve as a constant reminder of the possibility of forceful action. The troops have strict orders that they are not to be photographed. Any breach of this order could result in having your camera confiscated.
Something about travel seems to heighten the senses. Smell is one of the most active senses when one travels. Although we encountered a wide range of aromas in Tibet (some much more pleasing than others), the one that is predominant in my memory is the scent of burning sage. All of the larger temples have one, sometimes two, fire pits with chimneys almost 20 feet high near the entrance. Just like Native American practice, sage is burned in copious amounts to purify the environment. Pilgrims go to each of the fire pits and throw handfuls of sage into the fire and some spoon in powdered incense. Outside of the temples, women sell the sage from fully loaded donkey carts. At the Ramoche, the smoke was so thick that you could not see the person next to you.
Inside the temple, there were 2 rows of monks, about 20 in each row, running down the center of the building. They were all turning the long rectangular leaves of the sacred texts as they chanted the words of the different scriptures. We sat down behind them and meditated.
After the Ramoche, we went to the Potala, the pre 1959 residence and administrative home of the various Dalai Lamas. The system for visiting the Potala is that you have to buy tickets in advance. The government has a quota (1500) on the number of people who can enter each day. You must give your passport to get in. If they have not yet met their quota, they assign a time for your visit-- ours was 12 o'clock. The Potala is about 13-storeys tall and has approximately 1000 rooms. Once you have walked to the top floor, you are allowed 1 hour until you exit. For tour groups that take longer than 1 hour the penalties are severe. The group organizer is fined $500 and has his license revoked for one month. On the day that we went they were well below the quota. So, the 1-hour rule was relaxed, and we were allowed over 2 hours.
The Dalai Lama's residence was on the top floor, and consisted of 6 rooms for public visits, a waiting room, a sleeping room, and 1 other. The rest of the 1,000 rooms is comprised of numerous temples, a number of 30-foot high gold burial stupas for the mummified remains of previous Dalai Lamas, huge libraries, administrative areas, etc. One of the things that impressed me the most was a number of 3-dimensional mandalas. I was close to the Kalachakra and Yamantaka mandalas. They are made primarily of silver, stand about 5 feet tall, and are 20 feet in diameter. All of the beings' gods, dakas and dakinis, suffering beings, are represented in minute detail.
The group split up for the afternoon. A number of us went to visit the orphanage at Chu Shul. After last year's Tibet pilgrimage, Betty and David Bland brought back a project that the Theosophical Order of Service (TOS/USA), took up raising the necessary funds to build a bathroom/shower building. The orphanage serves 35 boys and girls 7 to 17 years old. The complex has 3 buildings, a 2-story dormitory/classroom, a kitchen building, and a rudimentary bathroom structure. We had raised around $7000.
We toured the facility and met with the two people who ran the facility, a lively 75-year-old man and equally youthful 65-year-old woman. We also had a chance to meet a number of the kids. Before coming to Chu Shul, I had thought that we had raised enough money to construct the building, as $7000 goes a long way in Tibet. However, when I had a chance to see the lay of the land, it became clear that we had neglected something in our planning. No provision had been made for a septic system. While there, we also saw that there was a large concrete block greenhouse that had fallen into disrepair. There is a great deal of greenhouse agriculture in the area, and the Chinese government had built this one for the orphanage. The glass panes on the greenhouse had been mostly shattered by the area's frequent strong hailstorms. Glenn had the idea for an excellent low cost project that could be a great benefit to the place. For about $1000, we could retrofit the greenhouse with plastic instead of the glass, and arrange for someone to come in weekly from one of the neighboring farms to work with the kids on the how-tos of greenhouse farming. Each kid could have his/her own little plot to stimulate a personal pride and sense of accomplishment. I left the orphanage with a whole new constellation of thoughts spinning in my head.
That night at dinner, Sue Miller, who had not accompanied us to the orphanage due to her own bout of altitude sickness, said that she had heard about our trip to the orphanage and about the need for a septic system. She said that in her capacity as an environmental consultant for municipalities in California, she is an expert in septic system design. Needless to say, she is now in the process of doing the design work. Another one of our group members was moved by the scope and possibilities of the project and made a generous commitment.
Day 5
We boarded the bus in the morning to go to Drak Yerpa. The trip was about 1 hour and took us to 14,000 feet. Drak Yerpa is a mountain said to be in the shape of Tara's body. Tara is a Buddha-enlightened being of compassion. Glenn described the shape of Tara in a seated position with her right leg stepping toward the world. With his description and some imagination, I could see it.
The significance of Drak Yerpa is that it has 108 caves that have been used by some of Tibet's great lamas and meditators for 3 and 12-year meditation retreats. For Buddhists and Hindus alike the number 108 has great spiritual significance. So, any place of significance that has something, anything, approaching the number 100, is elevated to 108. I can't say exactly how many caves there are at Drak Yerpa, but there are definitely a lot.
Not only have the caves been used in the past, but also there has been an unbroken continuity of use to this day. The place has a palpable sense of power. Being in a place, the exact spot, where great saints have had experiences of profound illumination is something I strongly felt. Meditating in the cave where Atisha taught and did his extended retreats was a powerful experience for a number of us. Some described a sense of happiness welling up within, an energetic sense of peacefulness.
We went to the cave of the 7th Dalai Lama, who Glenn feels is one of the greatest. It was a steep climb and only a few of the group attempted it. The cave is actually 2 caves, a sleeping cave and a meditation cave a few steps higher up. There was a young monk (21 years old) sitting in the sleeping cave reading scripture. He had a wire running outside to a small solar panel which provided electricity for reading, an incongruous sight. An older monk was standing near the other cave. He drew back the cloth covering the mouth of the cave and motioned for to come in. He patted the mat next to him and invited me to sit down. For the next half-hour we said mantra (mostly "om mani padme hum") and meditated.
We visited more caves and temples before descending for our box lunch. As we approached the field where our lunch awaited, small squares of colored paper were fluttering in the air above us. They were papers with prayers printed on them. Pilgrims take the papers high up the mountain and then throw them in the air accompanied with their prayers. In the valley far below, the effect was like the prayers were raining from the sky. There was no visible source; they had traveled so far. Glenn said that in his many trips here he had never been walking in the midst of them like this. It was quite auspicious.
Day 6
Today we left at 9 a.m. to go to Drikung. It is about a 3-hour drive from Lhasa. On the way we stopped at Tiger's Peak, a small beautiful monastery. On the mountainside above the monastery is a cave that had been used by Tsongkapa. This monastery, like most in Tibet, had been destroyed by the Chinese during the Cultural Revolution. It was now fully restored.
Prior to coming on this trip, I knew that many temples and monasteries had been destroyed. I had thought of it as simply an expression of Mao's disdain for religion. What I found was that the motive was more complex. All of the sacred structures in Tibet were built with jewels, gold and precious metals imbedded in the building walls. Such auspicious materials are thought to confer favorable spiritual influences. The destruction and extraction of the valuables was a significant source of income for Mao's government.
The farther we traveled from Lhasa, the more the scenery and lifestyle of the people changed to pure agriculture, yaks and goats on every hill; every house with yak dung patties plastered against the outside walls as they dried to be used for cooking and heating fuel; dried dung patties stacked and lined along the tops of walls; women throwing shovels of barley in the wind, separating the kernel from the chaff.
On the way to Drikung we began with 2 lane roads that soon became 1 lane with 2-way traffic. When our driver would encounter another vehicle, almost always a truck filled with iron ore bound for the railway to China, both would move partly onto the dusty shoulder and pass within 12-18 inches of each other. Our driver was excellent. When passing another vehicle the driver would blow his horn repeatedly and the driver ahead would move onto the shoulder. There was a lot of horn blowing. No one took it personally.
We arrived at the Achi guest house and were given a traditional greeting by the family that operates it, a kata (long white silk scarf) placed around your neck, rice to throw in the air with auspicious wishes, and a sip of beer from a common bowl. We settled into our rooms, were served lunch, then were off to visit the Drikung Terton Nunnery and Padmasambava's cave.
The location was glorious, a riot of color with prayer flags spanning wide ravines and going up the mountainside. The nunnery is at the foot of a mountain. Near the mountain top, above the nunnery, is the cave. A small river runs through the village and the valley. We began our trek up the mountainside. We were at 14,000-15,000 feet altitude and the air was thin. The walking was difficult. We zigzagged our way uphill, stopping ever few steps to catch our breath. As we neared the cave, two large vultures flew over us. The huge birds circled maybe 20 feet overhead, then flew off another auspicious sign.
Padmasambava, also known in Tibet as Guru Rimpoche, brought tantric Buddhism to Tibet in the 8th century. The emperor of Tibet invited him specifically to subdue certain troublesome mountain deities. Padmasambava went throughout Tibet meditating in many mountain caves, subduing the demons and transforming many of them to protectors of the faith. He was frequently said to have used his powers to fly from place to place. While in Tibet and Nepal we visited a number of caves where he had stayed. In was not uncommon for him to mark the spot by leaving his hand or footprint imbedded in the stone. This cave was marked with his footprint.
We meditated at the entrance of the cave. Although the whole day had been sunny, with only the occasional cloud and gentle breeze, at the exact moment that we began our meditation, a strong wind blew in and continued for maybe 2 minutes, then stopped.
The trip down was fast and easy. You could feel the air thickening, and the sun had sunk below the mountain peak and the temperature was dropping. By the time we reached the bus, it was dark. We all were in good spirits, filled with a sense of accomplishment after a strenuous hike to a beautiful and powerful location. Little did we know that our adventure was just beginning.
We boarded the bus and drove on for a few minutes on the narrow road following the ravine at the base of the mountain. Coming up a ridge there was a man in our headlights signaling us to stop. It turned out that his truck had broken down in the middle of the road at the crest of the hill. Nothing larger than a motorcycle or a small car could get around him. We were stuck. The bus was cold and getting colder. Our guide, Kunshok, tried to call the guesthouse on his cell phone. During the course of our trip we had joked with him, saying that he was a walking advertisement for his mobile phone company because his phone was always ringing in the most out of the way places. Not this time. In this deep mountain pass there was no reception. He found a car on the other side of the jam and hitched a ride to the guesthouse to tell them to send a car for us.
Glenn stopped a passing minivan that was able to squeeze by, and arranged for him to return and take 6 of us to the guesthouse. Glenn, Vladka, Vance, and I stayed behind. It was getting colder and colder. After about an hour the car from the guesthouse arrived. It turned out that Kunshok had not contacted him. When we were so late getting back, he figured that something must have happened to the bus. So, he came to get us. The next day we found out that Kunshok saw him drive by on the road. When Kunshok hitched a ride he asked the driver if he was going to Achi, and the driver said yes, but about 3 miles from the guesthouse he dropped Kunshok off because he was taking a turn in the opposite direction. It turns out that the whole area is called Achi. Kunshok walked the 3 miles in the dark and cold.
Day 7
We got on the bus and went up the mountain to the Drikung Monastery. We found out that our driver did not get in until 4:30 that morning. We drove up the mountain to the monastery on a thin dirt and gravel road. The bus was hugging the edge of a steep cliff and I was seated by the window. Looking down I saw no road, just a long, long drop to the valley below. I decided to just look straight ahead.
During our time in Tibet, we visited centers for all four of the lineages, Nyingma, Sakya, Gelugpa, and Kagyu. Drikung is a Kagyu monastery. The night before, one of the family members at the guesthouse had offered to bring us up to Drikung at 6 a.m. to see the "sky burials." I had not heard the invitation, but everyone who did declined. Sky burials are a traditional form of burial in Tibet. Because of the rocky ground it is difficult to dig a grave, and the scarcity of wood makes cremation impractical. In the sky burial the body is cut up into small pieces and placed on a mountaintop for the birds of prey. It is viewed as a final act of generosity. In Tibetan, the name for it means "an offering for the birds." Drikung is a place where many sky burials are performed.
Day 8
Our party left Lhasa in 3 four-wheel drive Land Cruisers headed southwest to the town of Gyantse. We stopped on the way at the Turquoise Lake (Yamdrok Tso), viewed by Tibetans as one of the most sacred lakes, about 16,000 feet in altitude. Gyantse is known for the Palcho monastery and even more for the Kumbum, a 7-storey three-dimensional mandala that has 108 chapels and thousands of murals depicting the spectrum of tantric Buddhism.
Day 9
Drove 2 hours to Shigatse, the second largest city in Tibet. Shigatse was one of the places HPB said she visited. It is the traditional home of the Panchen Lama. HPB met him here in the 1860's at the Tashi Lumpo monastery. She also speaks of the Masters KH and M living in this area.
The monastery was built by the 1st Dalai Lama in 1447. One of the temples had a huge statue, 50-60 feet high, of Maitreya Buddha. In the monastery there is a temple dedicated to Tara, but it was locked. Glenn talked to the monk and got him to open it for us. Because there were a couple of large Chinese tour groups and a large group from Holland, he arranged for the monk to lock us inside so that we could have some privacy. We meditated there for about an hour.
Day 10
We drove about 2 1/2 hours to Sakya and its monastery of the same name. We toured the monastery. In one of the temples there were close to 100 monks chanting and beating a large drum. We sat and meditated with them.
From Sakya we drove to Shigar where we would stay for the night. One the way we got our first glimpse of Mount Everest, Qomolangma to the Tibetans. Having heard of Everest and seen other people's photos all of my life, to catch even this distant view was moving.
At this point I should say a few words about some of the more mundane aspects of travel in Tibet. Hotels: when we checked into our hotel in Shigar it had gotten cold. As with every hotel on the trip, there was no heat in the lobby. There were also no heating units in the rooms. In fact, during all of our travel only 2 places had heating units in the rooms. Warmth came from the 2 thick comforters and one blanket that were provided for each bed. It works. In this hotel, as at a couple of others, hot water was unpredictable; some rooms had it, others did not. For me and some of the others on the trip, altitude sometimes caused problems with sleeping. On one cold night I had covered myself, face and all, with the comforters. Very soon I had difficulty breathing. I realized that because the air is so thin, even the little carbon dioxide from my breath diluted the oxygen content too much. I stayed covered, but fashioned a little breathing hole in the comforters. At the hotel in Shigar we were at 15,500 feet, and for a while, I had difficulty breathing when I lay down, and had to go to sleep sitting up in bed.
Rest stops: This was one of the more creative aspects of our travels. First, one needs to know that many of the roads we were driving were not what we in the USA would consider to be roads at all. Frequently they were dirt trails through terrain that greatly resembled the moon's surface. Even when we were on actual roads, there were no gas stations, restaurants, or rest stops for relief. Our convoy would stop on the roadside at regular intervals and we all would get out. Whether you had to go or not, you did. For the men--drivers, guides, and tour members--it did not present great problems. For the ladies it was a different story. For privacy they would have to find a wall, a little ravine, or on those more rare occasions where there was vegetation, a stand of bushes. It got to be quite the adventure for them. As much as we all bonded during the course of our travels, without a doubt it was the ladies who shared a unique and special bond. I understand that on last year's pilgrimage the tour guides brought a number of large umbrellas which the ladies used for privacy. Like I said, very creative.
Day 11
Today we drove to Everest, about 3 hours on fairly smooth gravel roads. We were climbing steadily for the first hour until we reached a high pass. You always know when you are crossing one because the highest places are always festooned with countless prayer flags. The high places are thought to be the dwelling place of mountain gods, Lhas. Early in our travels, Glenn introduced us to a Tibetan tradition. When crossing one of the high passes we would all shout out, "Ki, ki, sol, sol, Lha gello," which means something like, "Happiness, happiness, blessings, blessings, god of the mountain." Our drivers never failed to get a kick out of it, and would join in.
When we came over this pass, in front of us were the Five Sisters, Everest and 4 other high mountains. I have heard about Everest all of my life, and seen pictures, but to see it myself was awe-inspiring. Near the summit there was a continual plume of windblown snow. It looked like a cloud.
We continued our drive. As we would snake around the mountain, Everest would disappear from view, then reappear closer and more formidable. When we arrived at our hotel, the plan was to eat a quick lunch and go directly to Everest's base camp. It turned out that a Japanese group had decided to stay another day. So, no room at the inn for us.
Originally, we had been told that we would be taken from the base camp up the mountain in donkey carts. Fortunately things had changed, and they now had buses. During the time we were there, the Chinese government was being quite strict about access to the mountain. Last year, some Americans draped a huge banner at Everest, "Free Tibet. No Olympics for China." They were quickly arrested, but using a satellite phone they managed to film it and post it on Youtube. It got worldwide attention and caused an already sensitive Chinese government great embarrassment. The result for us was that we were only allowed to go to a certain small area. We were not allowed to meditate there, and could only take photos in a tightly defined area. We climbed the viewing hill, slowly. It was quite windy and cold. We were over 17,000 feet high.
Drove to Tingri.
Day 12
We started off the day in Tingri. We had already determined that we would not leave until after lunch. There had been a landslide, which had closed the Friendship Highway 10 miles from our destination of Zhangmu, a town on the border of Nepal. The authorities were only allowing cars to come from our direction after 7 p.m. We would then have to walk a mile and arrange for porters to carry our luggage.
On our way, we stopped at one of Milarepa's caves. It was on the side of a mountain looking down a fertile valley toward snow-capped mountains. A river runs through the valley. For a change we got to walk down to a cave, instead of our usual arduous climbs. The actual cave was closed because last year someone stole a valuable statue from it. We meditated outside of the cave.
On our walk to the cave, a young man about 20 years old met Glenn and walked us down. Glenn has known the boy for many years. His name is Dorje and his face and hands are badly disfigured. As a child he was leaning over one of the many hot springs in Tibet. This one emitted hydrochloric acid.
We drove on the Nyalam and had tea. Earlier in the day someone had asked how cold it would be at the border in Zhangmu. Our guide, Kunshok, said that we would not even need jackets. It seemed hard to believe. Glenn added that in a 30-mile drive we would drop more than a mile in altitude.
Soon after leaving Nyalam vegetation started to appear, not the low bush scrub which was all we had seen for the last couple of days, but green things. Soon there were pine trees. The road snaked ever downward. After a few switchbacks we found ourselves in a lush ravine with waterfalls bursting from the mountains on all sides and flowing to a raging river far below.
We came to a stop. I was lining up a photo of the lush greenery when a young soldier ran up to the car motioning me to stop. I had not seen the military post by the side of the road, and did not realize that this was yet another "photo free zone." We were approaching the area with the landslide, and the soldiers were not going to let the cars go any farther. The drivers tried to convince the soldiers to let us pass. One of the soldiers seemed to be weakening, but his partner was a little fierce. The actual landslide area was a considerable distance farther on. Glenn talked with them and tried to negotiate letting one car pass. We would then load all of our considerable luggage in that car and we would walk down, supposedly a 15 minute walk. The answer was still no. Their commanding officer, also a young man about 21 years old, came out of the small building, heard our case and said yes. He ended up letting all 3 cars pass. It was a good thing because we ended up driving a couple of miles over bad road until we reached the landslide.
As it turned out, almost all of the landslide area had been cleaned up. There were a number of young Tibetan men milling around at the spot. They were porters. Glenn said that these landslides occur fairly frequently in this area, and that when they do a whole little industry springs into being. Anyone with a car or bus will shuttle people to Zhangmu once they cross the closed section of road. Young men like our porters can make a months pay in few days. Glenn and Kunshok arranged for four porters to carry our entire luggage across. The distance was a little more than 200 yards. All of our group went across. Glenn, Vladka, and I stayed behind with the luggage. I was a little concerned about how our porters would manage with our group's numerous heavy bags. All four of them were skinny guys. My concern was misplaced. These little guys were strong. They would take a rope or long scarf, loop it over the suitcase, hoist it onto their backs, then loop the cord across the top to their foreheads. Once that bag was in place on their backs, they would put another one on top of it, and grab another to hand carry.
On the other side of the landslide, a bus was waiting for us. There was a deep gorge below us. All along our drive the government was doing road construction. It looked like it was about two years from completion. At this spot they were in the last phases of building a bridge to span the gorge. It turned out that the road crews dynamiting the mountain caused the landslide.
We snaked our way down to Zhangmu and arrived at our hotel before 10 p. m. Zhangmu is a border town like many in the world, and quickly you could feel a slip in the moral climate. As we drove in toward our hotel we passed by several small storefronts where 2 or 3 girls would be watching TV, or playing cards, in one, one of the girls was knitting. It all looked quite homey, but seemed a little strange. I was a little slow to catch on, but when one of our guides mentioned it and I noticed that every one of the places had red lights, like Christmas lights, strung in the window; prostitution.
Day 13
We crossed the Friendship Bridge and passed through Chinese, and then the much more relaxed Nepali, customs. Three of us spent the next 4 days in Kathmandu while the rest of the group traveled on to Bhutan.