Embracing Israel/Palestine
A Strategy to Heal and Transform the Middle East
Monday, March 12, 7:00 p.m. Free admission. Donations appreciated.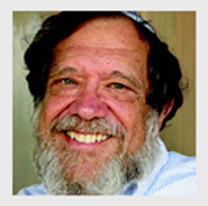 In his book, Embracing Israel/Palestine: A Strategy to Heal and Transform the Middle East, Rabbi Michael Lerner explores the underlying psychological dynamics that fuel the seeming intransigence on both sides of the Arab/Israel conflict. By illustrating the importance of being both pro-Israel and pro-Palestine, he challenges the master narratives in both Israel and Palestine to the extent that they demean the other side and exposes the false idea that "homeland security" (either for Israel or for the U.S.) can be achieved through military, political, economic, or cultural domination.
This evening, Rabbi Lerner shares his approach, drawn from his own work as a psychotherapist with Israelis and Palestinians and addressing the Post Traumatic Stress Disorder that politically cripples both societies, and presents a vital and creative new direction that will provide hope and instruction to anyone who seeks a lasting peace for the Middle East and a healing of the U.S. as well.
Michael Lerner, PhD., rabbi of Beyt Tikkun synagogue in San Francisco and best-selling author is founder and editor of Tikkun magazine, a leading interfaith publication in the West. A frequent lecturer, scholar in residence at universities, synagogues, churches, and mosques around the United States, Canada, and England, Rabbi Lerner has also appeared on numerous television shows, including Larry King Live, CNN News, Meet the Press, and Bill Moyers Journal. Recipient of a special PEN Award and the Martin Luther King, Jr.–Mahatma Gandhi Peace Award from Morehouse College, Lerner has become a unique spiritual leader in the United States. He lives in Berkeley, California and can be reached at rabbilerner@tikkun.org.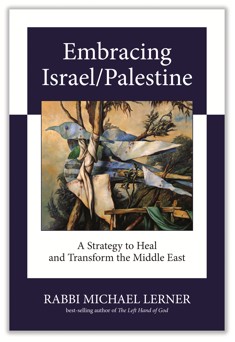 Praise regarding Embracing Israel/Palestine: A Strategy to Heal and Transform the Middle East
"Rabbi Michael Lerner provides us with a brilliant and hopeful vision of how to transform the Middle East from a cauldron of violence to a vanguard of peace. For several decades Lerner has been a remarkably courageous rabbi, defying the orthodoxies of some in his own community to insist that Biblical teachings require recognizing the equal value to God of both Israelis and Palestinians, and the practical necessity to embrace both Israel and Palestine with compassion and love, thereby challenging the extremists on all sides."
—Jimmy Carter, 39th President of the United States of America and recipient of the 2002 Nobel Peace Prize
"Embracing Israel/Palestine is a must-read for those who care about peace in the Middle East. It is provocative, radical, persuasive, and, if given the attention it deserves, could make a major contribution to reconciliation. Please read this book."
—Archbishop Desmond Tutu
"Michael Lerner has been a national leader of the social change movements in the United States for the past forty-five years. The practical wisdom derived from that experience plus his analytic skills honed as a psychotherapist, philosopher, and theologian combine in this book to give Americans, Israelis, and Palestinians a brilliant path to heal the Middle East.
—Michael Nagler, founder of Peace Studies at U.C. Berkeley and chair of the Metta Center for Nonviolence
"Rabbi Michael Lerner is one of America's most significant progressive intellectuals and political leaders, and Embracing Israel/Palestine is not only a great conceptual breakthrough in dealing with the Middle East but also demonstrates a methodology for how best to think about global and domestic U.S. politics. For many decades, Muslims around the world have been cheered by Rabbi Lerner's challenge to the media's demeaning of our religion and dismissal of the rights of Palestinians, just as they have been challenged by his insistence that they recognize the importance of truly and deeply accepting Israel's right to exist in peace and security. I hope my colleagues on Capitol Hill, the cynical media, and leaders in Israel, Palestine, and throughout the world are pushed by ordinary readers to grapple with the brilliant path to peace and reconciliation put forward in this book. Rabbi Lerner's commitment to nonviolence and a path of love and generosity should not be dismissed as utopian. My experience in the Congress leads me to believe, on the contrary, that it is precisely his way of thinking that is the only path that will give Israel, Palestine, and the United States the peace, security, and well-being all three deserve!"
—Rep. Keith Ellison ( D-Minn.), the first elected Muslim to the U.S. Congress and chair of the seventy-member Progressive Caucus of the U.S. House of Representative
Book signing after the program.