By Ed Abdill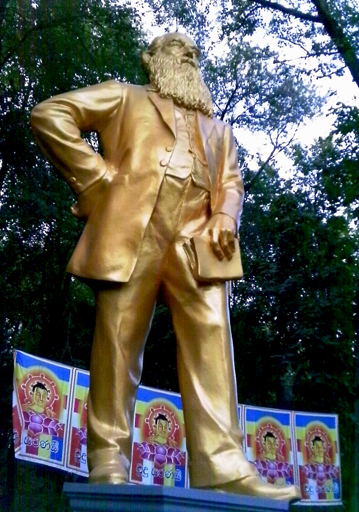 On September 10, 2011, a statue of Colonel Henry Steel Olcott was unveiled at a Sri Lankan Buddhist temple near Princeton, New Jersey. The statue is modeled on one in Colombo, Sri Lanka, where Olcott is regarded as a national hero.
In the late 1800s Olcott established Buddhist schools in Sri Lanka (then Ceylon) and designed a Buddhist flag that was prominently displayed at the celebration. He also wrote a Buddhist catechism (still used world wide) and forced British officials to declare Vesak, the day of the birth, enlightenment, and passing of the Buddha, a national holiday. Postage stamps bear Olcott's image and the date of his death is celebrated yearly. The unveiling was sponsored by Ananda College Old Boys Association, an alumni group from Ananda College. Olcott founded Ananda College and Fritz Kunz was its principal from 1915 to 1917.
Distinguished speakers at the event included the Sri Lankan Ambassador to the United States and the Sri Lankan Ambassador to the United Nations. Many others spoke at the unveiling, including senators and officials from New Jersey and a representative from the Department of State. Ed Abdill, Vice President of the Theosophical Society in America, also spoke at the event. Lyn Trotman, national director from the Eastern district and President of the NYTS, was present along with several members from our two Theosophical groups in northern New Jersey.
Two years ago the largest statue of the Buddha in the Western Hemisphere was unveiled at that same temple (see photo). The Buddha is posed in samadhi, a deep state of consciousness in meditation. It is pure white and is beautifully illuminated at night. The event concluded with a delicious buffet meal for all guests.