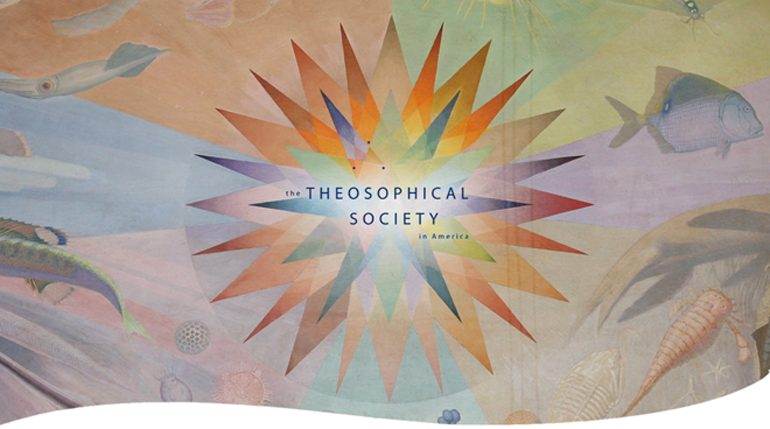 The Olcott Mural and Art Restoration Project

Help Us Preserve this Historic Work of Art
For almost a century, visitors entering our National Center have been treated to a breathtaking series of murals that cover the four walls of the reception area.
More than a stunning work of art, the murals are an important piece of Theosophical history. Commissioned in 1930, they were completed in 1933 by artist Richard Blossom Farley in order to depict the mystery and grandeur of evolving life.
Today, we are excited to announce an initiative to repair and preserve these murals so they can be enjoyed for generations to come!

To learn more about the history and meaning of the murals and to see more photos,
visit the Theosophy Wiki.
The murals of Olcott were painted on canvases and applied to our walls in 1933.
Almost 90 years later, the canvasses have become dirty and faded, and there are several rips and tears in the fabric. Most importantly, the canvasses have begun to detach from the walls in places - a process called delamination.
The restoration will be performed this summer by professionals who will re-adhere the canvasses, repair the tears, and thoroughly clean the murals. This work will take place in June and August of this year. Architectural lighting will be installed to enhance the beauty of this space.


How You Can Help

We also have sponsorship opportunities available. Contact us at president@theosophical.org or call 630-668-1571 for more information.
Sponsorship Levels
Silver $500
Name listed on supporter plaque
Name and logo included in announcement email to members
Gold $1,500
Name listed on supporter plaque
Mention in email to members and on social media channels
Announcement of name and logo during 1 livestreamed lecture
Platinum $3,000
Name listed on supporter plaque
Announcement of name and logo during 3 livestreamed lectures
Name and logo included in all promotional materials
Thank you for supporting us, today and every day!