Ubuntu, Fierce Love, and Repairing Our Broken Places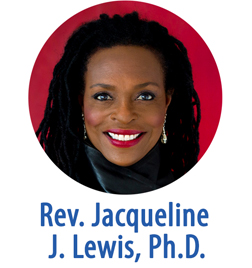 More than ever, I'm aware of the broken shards all around me. Broken promises made by founders who didn't consider my ancestors—African and Indigenous—fully human; the remnants of broken laws meant to protect the vulnerable, shredded to keep the powerful in power; broken relationships—in families, communities, across political party and between people of faith. I'm convinced what's broken in society mirrors our broken insides. The ubuntu philosophy—a person is a person through other people—reminds us that our destinies are inextricably connected. I'll weave psychology, ubuntu and a theology of fierce love together to prescribe a way to heal our souls and the world.
The Rev. Jacqueline J. Lewis, Ph.D., is Senior Minister at Middle Collegiate Church, a 1,300-member multiethnic, welcoming, and inclusive congregation in New York City. She is a graduate of Princeton Theological Seminary and earned her Ph.D. in Religion and Society/Psychology and Religion at Drew University. Ordained in the Presbyterian Church (USA), Dr. Lewis hosted "Just Faith," an on-demand television program on MSNBC.com and is a frequent media commentator. Her books include The Power of Stories: A Guide for Leaders in Multi-racial, Multi-cultural Congregations, Ten Strategies for Becoming a Multiracial Congregation, and the children's book, You Are So Wonderful! She is currently at work on a book on how to heal souls and our world. Learn more at http://www.jacquijlewis.com/.