Oneness Manifested in Uniqueness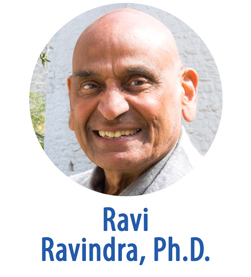 Wishing for a sense of unity cannot have substantial meaning unless it emanates from a certain quality of being. Normally, our worldly self is occupied with self-advancement, even when thinking that it is practicing and promoting a sense of unity. We must possess a willingness to submit to the universal call for a radical transformation of the whole being, a new birth, which will lead to freedom from the conditioned self. Only then is there a possibility to interact with other human beings as a person to a person, imbibing particles of the same Divinity manifesting uniquely in each one of us.
Ravi Ravindra is an author and professor emeritus at Dalhousie University in Halifax, Nova Scotia, where he served as a professor in comparative religion, philosophy, and physics. A lifetime member of the Theosophical Society, Ravi has taught many courses at the School of the Wisdom in Adyar and at the Krotona Institute of Theosophy in Ojai, California. He was a member of the Institute of Advanced Study in Princeton, a fellow of the Indian Institute of Advanced Study in Shimla, and the founding director of the Threshold Award for Integrative Knowledge. For more information visit http://www.ravindra.ca.