with Ravi Ravindra

Saturdays, 10:00 - 11:00 a.m. Central time [UTC-06] / 9:30 p.m. IST [UTC+5:30]

November 17 - December 8 (4 classes)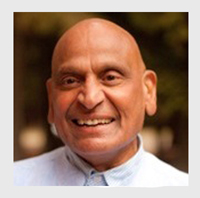 Our attitude toward death and dying has a direct impact on our living. All that lives will die, yet according to a yaksha, a celestial being in the Mahabharata, the greatest mystery in the world is that we humans see creatures dying all around us, but none of us believes that I, too, will die. Our understanding of what "I" is, and what the relationship between "I" and the body is, affects our attitude towards death.

We will explore the understanding of death and what happens after death as perceived and articulated in three major religious traditions—Hinduism, Buddhism, and Christianity—and also in some Theosophical literature. We will also look at the available scientific data dealing with reincarnation, near-death experiences, and the shifts in attitudes of people nearing death; and consider the ways in which a conscious awareness of death can actually enliven our living.

Ravi Ravindra is an author and professor emeritus at Dalhousie University, in Halifax, Nova Scotia, where he served as professor in comparative religion, philosophy, and physics. A lifetime member of the Theosophical Society, Ravi has taught many courses at The School of the Wisdom in Adyar and at the Krotona Institute in Ojai, California. He was a member of the Institute of Advanced Study in Princeton, a fellow of the Indian Institute of Advanced Study in Shimla, and the founding director of the Threshold Award for Integrative Knowledge. For more information visit www.ravindra.ca.

Registration includes access to recordings of all the classes.
$50 Nonmembers $40 Members

Register here