with Gwynne Mayer

Wednesday, 7:00 - 8:00 p.m. Central time [UTC-06]

October 17 - December 19 (8 classes) No class November 14 and 21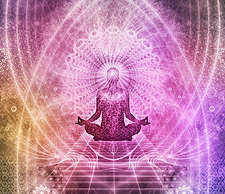 This class is open to participants from Karmic Astrology II (or by instructor permission) to continue the study of karmic and evolutionary astrology from the Soul's perspective as it has evolved throughout time. We have all been faced with various traumas over the course of our lives brought on by relationships, families, and cultural/environmental factors. These traumas are life lessons and can be viewed as ways to learn and grow. How can we heal the wounds from the past and connect to the gifts they may have left us so that we can evolve further into our spiritual beings? To answer this question, we will focus on our natal charts and their movements into other dimensions in a continuing evolution. We will also learn to read charts for friends and family members.

Gwynne Mayer, MA, has forty years of post-graduate work in the areas of Jungian analysis, Gestalt therapy, child psychology, and educational systems. She has studied the works of Carl Jung, Helena Blavatsky, Alice Bailey, Rudolph Steiner, and G.I. Gurdjieff for over 45 years. Gwynne has studied astrology with Isabel Hickey, Dane Rudhyar, Gret Baumann-Jung (Jung's daughter), and Liz Greene, and she applies all of her background when considering astrological influences.
Registration includes access to recordings of all the classes.

Class size is limited to ensure personal attention, so sign up early!

$70 Nonmembers $60 Members

Register here
---
Course Outline
The following topics will be explored throughout the eight-week course:
A study and review of reincarnation of the Soul in this life "persona"
A detailed study of aspects causing trauma and wounds, from a Jungian perspective
Viewing these wounds from a different perspective, as the Soul makes changes and evolves
Applying these principles through analysis of charts of famous people, and of anonymous versions of personal and family charts
For more information about enrolling please email webinars@theosophical.org.