with Lydia Van den Broeck

Mondays, 7:00 – 8:15 p.m. CDT [UTC-05]

February 11 – March 18 (6 classes)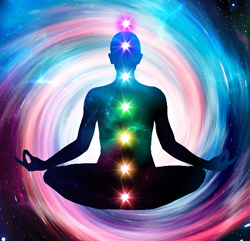 Are you ready to answer the call of the Universe to awaken fully and manifest your true Soul purpose?

Chakras are portals, keys to your wishes and dreams. In order to manifest your intentions and move into 5D reality, you must clear the chakras of obstructions. We will learn about each chakra and the obstacles that can arise on our path, then address healing.

Mastering your energy helps you go beyond the ego and beyond reactivity, allowing you to respond to life from a place of grace. Clear thoughts and clearer awareness bring more power to create and manifest.

Each session will include an experiential healing practice as well as suggestions for personal healing.

Lydia Van den Broeck, Ph.D., is a consciousness teacher and healer with more than 30 years of experience both in the United States and abroad. She developed the Energy Mastery and Soul Retrieval processes, and she uses her intuitive insights to support your full potential and to remove blocks and limitations from your life's path. Learn more at her website, www.lydiavandenbroeck.com.

Registration includes access to recordings of all the classes.
$60 Nonmembers $50 Members
---
This course will help you:

• Become an authentic being in charge of your own thoughts and actions
• Create and manifest more of your intentions and heart's desires
• Stop the past from ruling your life
• See through the eyes of Grace, not struggle
• Restore the balance between "go" and "flow"
• Know in your heart that Love is not conditional

Course Outline
1. Introduction and root chakra. When balanced, the root chakra provides grounding, stability, security, peace, a sense of belonging, and easy financial flow. If out of balance, you may experience fear, insecurity, and financial concerns.
2. Creation chakra. When in balance, the creation chakra gives you joy in life, creativity, and sexual freedom. If unbalanced, you may experience power struggles, sexual dysfunction, poor boundaries, and resistance to change.
3. Power chakra. When balanced, the power chakra provides personal power, will, authenticity, integrity, empathy, and ambition. When out of balance, the ego dominates, and you may experience insecurity and the need to control.
4. Heart chakra. When in balance, the heart chakra provides love and respect for self and others, kindness, and forgiveness. If out of balance, you may experience extended sadness, a "broken heart," and over attachment to another.
5. Throat chakra. When balanced, the throat chakra allows you to ask for what you want and to speak your truth clearly without blaming. When unbalanced, you may lack self-expression, hesitate to speak up, or disconnect from your inner truth.
6. Third eye chakra, crown chakra, wrap-up, and ongoing personal practice. When balanced, the third eye chakra brings inner vision, clear thinking, and new ideas, while a balanced crown chakra gives a deep connection with Spirit. When these chakras are out of balance, you may be dominated by emotion, experience a lack of vision, and deny spiritual connection.