with Sy Ginsburg, Gwynne Mayer, and Harry Lee Gray
Fridays, 12:30 – 1:30 p.m. CDT [UTC-05]

January 25 – March 15 (8 classes)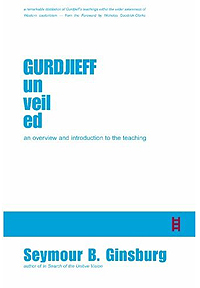 Have you been meaning to learn more about the mystic philosopher/teacher with the unusual name, G.I. Gurdjieff? Perhaps you have been intrigued to hear about "Fourth Way" study groups, but a bit too intimidated by the vocabulary to join in. As mentioned by Sy Ginsburg in the preface to Gurdjieff Unveiled, he wrote his book for you. His book, as well as the class he will teach, is "for the beginning student, for the inquiring seeker, and for the simply curious."

This course will introduce new students to the principles of Gurdjieff's teaching. Once they understand the principles, students generally join an ongoing group in order to put these principles into practice. This ongoing "Work" helps students move from identification with the personality to essence, that which we truly are. Other traditions have called essence our soul. Gurdjieff calls it Endlessness.

Download Sy's book for free and join him in an exploration of the basic principles Gurdjieff set forth for self-transformation. Each class will include reading, discussion, and practical exercises to expand consciousness.

Sy Ginsburg, JD, is the author of Gurdjieff Unveiled: An Introduction to the Teachings of Gurdjieff and The Masters Speak: An American Businessman Encounters Ashish and Gurdjieff. Over the course of 19 years, he studied many topics with Sri Madhava Ashish, including the Gurdjieff teachings, the Stanzas of Dzyan, the study of dreams, and the significance of the Mahatmas.

Gwynne Mayer, MA, is a life-long student of Gurdjieff, Jung, Blavatsky, and Steiner. She has extensive experience as a therapist, astrologer, and educational systems advisor.
Harry Lee Gray, RN, has worked with the Gurdjieff teachings over the course of 42 years, including time spent with Irmis B. Popoff and Dr. Keith Buzzell. He is also a writer, historian, and independent filmmaker.
For a free download of Gurdjieff Unveiled: An Overview and Introduction to Gurdjieff's Teaching, click here.

Registration includes access to recordings of all the classes.

Suggested donation $40

Register here
---
Course Outline
Who Am I?
1. Gurdjieff's explanation of non-duality, how to become more conscious, the illusion of separation
2. The purpose of life, personality vs. essence, the Fourth Way
The Expansion of Consciousness
3. Moving out of non-duality, self-observation, four states of human consciousness, seven categories of human beings
4. Attention, seven centers/brains, the relativity of time
The Transmutation of Energy
5. The five being strivings, more on relativity, ray of creation, law of the three forces
6. Law of the octave, enneagrams, human alchemical factory
The Conservation of Energy
7. Identification, "I"s and buffers, the man/woman machine, lying
8. Internal considering, negative imagination, chief feature, external considering