with Ravi Ravindra

Saturdays, 10:00 – 11:00 a.m. CDT [UTC-05] / 8:30 – 9:30 p.m. IST [UTC+05:30]

June 1 – 22 (4 classes)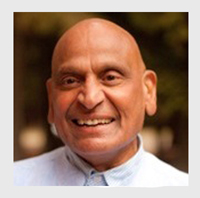 There is one single lesson that can be gleaned from all the world's scriptures and sacred texts: unless searchers undergo a radical transformation of the whole of their being, they cannot come to the Truth (or God). Although the demands of transformation vary by source, the process of transformation leads not to freedom for the self but to freedom from the self.
This necessitates an impartial self-inquiry to understand the self of which one needs to be free, and the Self which one needs to understand and follow. The Self is a part of the Highest Reality, and the call is for each of us to act as an instrument of the Divine will, or the Cosmic Intelligence pervading the vast universe, by bringing our own unique talent for service.
Drawing from traditional sacred literature and the teachings of two modern sages, Krishnamurti and Gurdjieff, we will explore the voyage of inner transformation.
As we will find, a searcher soon becomes deeply interested in the long but adventurous journey of self-transformation rather than the destination, which always remains a Mystery.
Ravi Ravindra is an author and professor emeritus at Dalhousie University, in Halifax, Nova Scotia, where he served as professor in comparative religion, philosophy, and physics. A lifetime member of the Theosophical Society, Ravi has taught many courses at The School of the Wisdom in Adyar and at the Krotona Institute in Ojai, California. He was a member of the Institute of Advanced Study in Princeton, a fellow of the Indian Institute of Advanced Study in Shimla, and the founding director of the Threshold Award for Integrative Knowledge. For more information visit www.ravindra.ca.
Registration includes access to recordings of all the classes.
$50 Nonmembers $40 Members
---
Webinar Platform
Adobe Connect Meetings for Windows, Mac, Linux (limited support) or mobile device; ask questions via chat window (your microphone and webcam are not used); minimum recommended network bandwidth 1.0 Mbps. Please email webinars@theosophical.org for further information.