Friday, September 13, 2019, 07:00pm - 09:00pm

Friday, September 13, 7:00 – 9:00 p.m.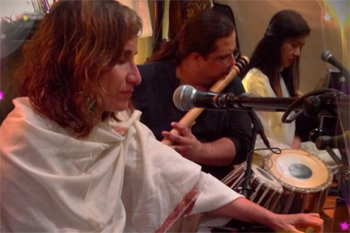 Kirtan is a musical expression of love and spiritual devotion performed as a call-and-response chant set to music. When it comes to practicing their art, Kirtan group Devi 2000's mantra is Sing louder. That's all you really need to know to step into the world of Kirtan chanting. The call-and-response Sanskrit chants are so simple and strong, they can take anything your voice can throw at them. And while they reach back in time to the birth of the devotional Indian bhakti tradition, Devi 2000 has their own tradition of adding some rockin' grooves that make their chanting accessible to all.
If you're already among the initiated...Namaste! Come, and help us spread this joyful, open-hearted experience to the new chanters in your life. If you're new, welcome! And remember: SING LOUDER!
$25, $30 at the door