By Richard Smolley
Visiting the Theosophical Society's American headquarters, Radha Burnier, president of the international TS in Adyar, India, addressed the staff and volunteers at the Olcott campus in Wheaton on May 23. Although she had last been to the campus three years ago, she told the audience, "I have been acquainted with this place probably longer than any of you," her first visit having been during the administration of former TSA president Dora Kunz.

Reminding the staff of the Society's long heritage, Burnier went on to recount some of the TS's history, going back to its first founding in the U.S. in 1875. For that reason, she observed, "in Adyar there is a big board, giving the names of sections. The American Section comes first. Not long after, the Indian Section came into existence."
Burnier noted that she is having "a great deal of contact" with lodges in countries where Theosophy has faced adversity, such as Russia, which now has three lodges, and Pakistan, which has two lodges left. The latter are "having a very difficult time" because of the opposition of certain Muslim groups who have even tried to take possession of lodge buildings.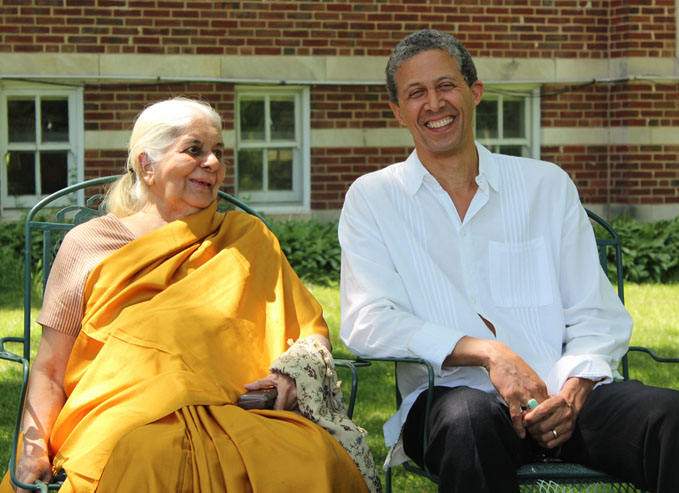 In India itself, she said, "one of the important aspects of the work is unity" beyond differences of caste and religion. Since its earliest days, Burnier stressed, the Society's main goal has been to "make people understand what are the real things, and which ones people should pay attention to." Prime among these has to do with the Society's First Object, which espouses the brotherhood of humanity and indeed of all life. "We are different, yet the same," Burnier said. "We are one people from end to end of the earth." For this reason, she said, it is necessary to emphasize love, "not in a physical, material sense, but in a real sense. Love is in essence the realization of the unity of all creatures, to realize it in one's heart."
To foster awareness of this truth is "why the Society is being kept alive" despite ups and downs in membership levels, Burnier went on to say. Describing the TS as "a forward-looking movement that will take people very far in their evolution," Burnier looked forward to an increasing influence for the organization. "Although we are a small society, it is growing and inwardly taking shape" as a vehicle for helping people to realize "the importance of the unity of human beings."
To enlarge, click on first picture and then click the "next" arrow.
Warning: No images in specified directory. Please check the directoy!

Debug: specified directory - https://www.theosophical.org/images/Radha