Library Migration to MAGIC
The Theosophical Society in America and The Henry S. Olcott Memorial Library in Wheaton, Illinois received a $25,000 grant to help fund retrospective cataloging and database migration to the MAGIC (Multi-type Automation Group in Cooperation) consortium and DuPage Library System's (DLS) SIRSI/Dynix server. MAGIC is a consortium of libraries using a shared library automation system hosted by the DuPage Library System. MAGIC members

include public, school, special, and academic libraries. The Theosophical Society in America was awarded the grant of $25,000 by the Illinois State Library (ISL), a Department of the Office of Secretary of State, using funds provided by the U.S. Institute of Museum and Library Services (IMLS), under the federal Library Services and Technology Act (LSTA).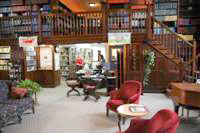 And no, the library is not flying south for the winter! The migration process refers to moving all of the data for patrons and items to the new server. Jane Plass, Eric Bain, and the DLS network services staff have helped us with various and countless aspects of the migration including matching old circulation and cataloging categories and policies to those used by DLS, troubleshooting records that did not load correctly, and learning to maintain circulation and cataloging functions with the new on-line system. On March 11th we "went live" in the new system with 22,988 titles that were loaded, only 1,279 of which matched existing titles in MAGIC. Our circulation and visibility has already greatly increased.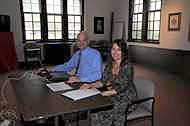 Through the grant and its matching funds to help us match the funds we are grateful to be able to make available our unique repository for Theosophical material. In addition to increased sharing of resources, we also benefit by migrating our server to the DuPage Library System's care and maintenance. Henry S. Olcott Memorial Library staff members Marina Maestas, Dan Smolla, Janet Kerschner, and Joe Mathews have already logged in a great deal of productive time working with Jane Plass, Eric Bain, and the Network Services staff from DuPage Library System (DLS) in preparation for the migration.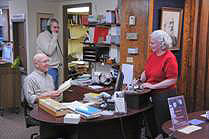 As library staff members continue to adjust to and troubleshoot the new online catalog system, they are also working on retrospective cataloging which includes attention to 11,000 of the library's bibliographic records that need to be replaced. Close to 1/2 of the library's items are either not catalogued or catalogued with brief records. A brief record may contain only a title and an author entry, with nothing else to help a library user find the items with any sort of keyword search. Since most of the items in Henry S. Olcott Memorial Library are relatively specialized and unique, any item having a brief record will most likely not be easily noticed or used. Elisabeth Trumpler, our recently retired Head Librarian, volunteered to help the library organize and catalog its rare book collection as part of this retrospective project. She has visited the library for two extended stays and will visit again in mid-June to do the lengthy research necessary to obtain appropriate OCLC records for the uncataloged books. It is our great fortune that the LSTA grant is helping us to address this longstanding need.