Archives
November - December 2008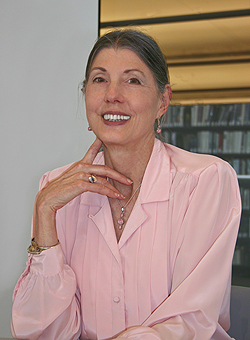 Our account of Olcott happenings resumes with Halloween, which is a great favorite among staff and volunteers. On October 25, the Friends of Olcott celebrated Halloween with an especially spooky Open Mic Soiree. A mix of musicians, poets, and dramatic players filled every minute of the event with scary entertainment. Among the highlights were librarian Corey Bard's solo, unaccompanied version of "Mack the Knife" (which pushed the envelope of wacky weirdness), Dan Noga (Membership) dressed in pink pajamas and an elaborate monster head sharing thoughts and poems, and the Olcott Library's dramatic vampire creation, "Halloween Olcott," which featured actors Diane Eisenberg, Corey Bard, Dan Smolla, Marina Maestas, and the musical accompaniment of Idarmis Rodriguez. A very energetic audience joined in for parts of the play as well as helping by decorating the event with their elaborate costumes.

The National Conference was held in Holyoke, Massachusetts, from October 31 to November 2, 2008. Titled "The Mystical Heart of Christianity," it gathered together some of the leading proponents of esoteric Christianity in an effort to glimpse the deeper truths of a faith that has been hamstrung by biblical literalism. Richard Smoley, executive editor of Quest magazine and author of Inner Christianity and Conscious Love, gave the keynote address on "The Future of Esoteric Christianity." He also led a closing meditation that focused on sending light, love, and power to the national elections that were to be held two days later. The conference was densely packed with material, but participants reported high levels of satisfaction.

While the TS is not connected with institutional Christianity, we at Olcott believe that since this is by far the largest and most influential religion in the United States and indeed the world, esotericists can help reconnect believers and students of Christianity with its own origins and deeper truths (as Annie Besant's classic book Esoteric Christianity stresses). This conference was a step in that direction. Currently we are planning a follow-up conference for spring 2010 aimed at helping participants heal wounds they have suffered from their religious upbringing.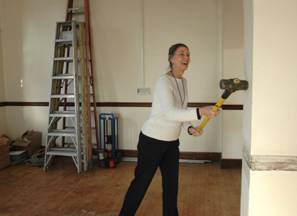 On December 15, the staff at Olcott all pitched in to prepare the auditorium for renovation. The staff tackled the demolition phase with relish, enjoying the opportunity to shift roles and do some physical work instead of sitting at their desks. Every staff member contributed to the overall success of this project, and it was a great team-building exercise. Much appreciation to all from the maintenance department! Designed to make the space more welcoming and accessible for our guests, the renovation will include new carpeting, improved audio visual equipment, a new stage orientation, and increased seating capacity. This project is being funded through the capital funds campaign, to which many members have already contributed. If anyone is interested in donating to this cause, please contact David Bland at (630) 668-1571, ext. 354.


| | | |
| --- | --- | --- |
| The Christmas party on December 17 brought staff and volunteers together for a delicious holiday meal and grab bag gift exchange. The kitchen staff Jeff Gresko, Michelle Barry, and Diana Cabigting provided the main feast, while other employees brought in favorite deserts to share. Our growing talent pool among the staff created their own rendition of "A Charlie Brown Christmas" complete with Diane Eisenberg as Snoopy and John Cianciosi as Charlie Brown. It was hard to tell who had more fun, the actors or the audience. Many staff members participated and all in attendance enjoyed the festivities. | | |
| | | Charlie Brown Christmas |
Because her leave-taking coincided with our Christmas party, we had just a small send-off with a special dessert for Anu Naresh, who organized many aspects of board reports and summer conferences and generally kept my schedule together for the last several years. Having decided to return with her family to Hyderabad, India, Anu plans to spend the first half of this year packing and making moving arrangements, but she plans to volunteer at Olcott when she is able, with a final departure scheduled for June. Her sunny nature and ready willingness will be greatly missed. As we continue to downsize, Elvira Carbonell will cover her position while continuing her public relations work.

December ended with the Meditation for World Peace, an event held during the last day of each year in order to help generate energy for peace and healing. Before sunrise, thirty dedicated people gathered at the National Headquarters Library to be a part of the global meditation. This year, in addition to the holiday greenery, the library was decorated with panels of the original Peace Ribbon. During the 1993 Parliament of the World's Religions, the ribbon was displayed in downtown Chicago and wound through Grant Park. Some of the panels were made right here at the Theosophical Society while others were created by children and adults from around the world.

Anu Naresh
In early January, I returned from my trip to Adyar, but that is a tale unto itself, so I refer you to my notes concerning the 2008 Adyar convention .