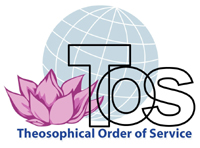 These four presentations of the 3rd international workers' conference of the Theosophical Order of Service, given at the national headquarters of the Theosophical Society in America, explore the mission of the TOS today and how we can continue to be of service to those in need well into the future. 4 DVDs. Sold separately. 2013.
Available on DVD.
First Talk: "The TOS 100 Years from Now" - Vicente Hao Chin, Jr.
Presented July 24th, 2013. Buy on DVD
Second Talk: "An Overview of the International TOS" - Carolyn Harrod
Presented July 24th, 2013.
Third Talk: "Creative Meditation: Balancing Inner and Outer Action" - Maria Parisen
Presented July 25th, 2013. Buy on DVD
Fourth Talk: "Short Talks: Service as Sacred Labour" - Birendra L. Bhattacharyya, Cythia Trasi, and Dorothy Bell
Presented July 26th, 2013. Buy on DVD