Saturday, September 21, 10:30 a.m. – 4:30 p.m.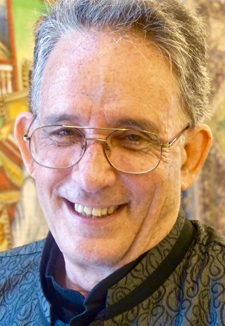 If Rumi is the great prophet of love, Kabir is the fierce and sublime prophet of truth. Rumi can be fierce, but leads with refined ecstatic tenderness, while Kabir can be tender, but leads with a breathtaking ferocity that aims to murder the ego and incinerate injustice and illusion. Rumi is the supreme aristocrat of poetry; Kabir speaks in the raw stark realism of a peasant who knows the horror of poverty.
Our current time requires a simple, naked, unflinchingly fierce voice, and that voice is Kabir. It is as though Rumi flooded us with tender fire to prepare us to be scorched in Kabir's loving flames, resurrecting us in our essential divine nature. Kabir is the master of clarity, simplicity, directness, passion, and strength, and this laser-like purity and refusal to buy into any kind of illusion is exactly what spiritual seekers need amid our devastating global crisis. The workshop will introduce you to Kabir's most important poems and three life-changing practices from the core of the Hindu and Sufi tradition, and be interspersed with deep sharing between those who participate and Andrew in the glorious field opened up by Kabir's words.
Andrew Harvey is a poet, novelist, translator, mystical scholar, and spiritual teacher who has taught at universities and spiritual centers around the world. He has written and edited more than 30 books, including the best-selling titles The Hope and The Tibetan Book of Living and Dying. He is the founder and director of the Institute of Sacred Activism. For more, visit www.andrewharvey.net.
TS Members: $60 • Nonmembers: $70 • $80 at the door
You can also join Andrew Harvey on Thursday, September 19 for his talk Turned to Gold: The Divine Poetry of Kabir.