Finding Peace and Contentment in a Distracted World
Friday, October 18, 7:00 p.m. – Sunday, October 20, 3:30 p.m.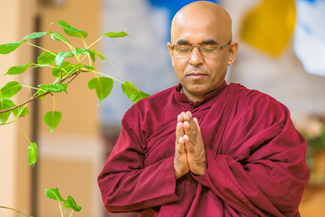 Most of us are living busy, distracted lives much of the time, overwhelmed with work, family, and other issues. We are so distracted, we have no time to think about how we feel or how we are doing in our inner lives. As a result, we have become robotic in many ways and are losing our health and mental well-being. We cannot focus or concentrate and we become sad, mad, and angry easily and often. Bhante Sujatha will help us find our inner Buddha nature for inner peace, happiness, contentment, and joy.
This retreat will include personal time with Bhante Sujatha, sitting meditation, walking meditation, group meditation and discussions, labyrinth walking meditation, mindful eating, sutra study, and more.
Bhante Sujatha, a Buddhist monk for over 35 years, is singularly focused on adding more love in the world. Bhante teaches loving-kindness meditation to people around the globe for all those seeking the art of happiness and contentment. His approach to meditation is deep and simple, bringing core Buddhist teachings to everyone in a way that is practical and easy to understand. A joyful, radiant, funny, and wildly energetic monk, Bhante will help you obtain the peace that can only be found in deep silence. Originally from Sri Lanka, he is the head monk/abbot of the Blue Lotus Buddhist Temple and Meditation Center in Woodstock.
As space is limited, early registration is encouraged.
Retreat sessions, meals, private lodging—$350
Retreat sessions, meals, shared lodging—$250
Retreat sessions, meals—$175
You can also join Bhante Sujatha on Thursday, October 17 for his talk A Buddhist Approach to Loving Yourself as You Are.