Saturday, November 9, 9:00 a.m. – 5:00 p.m.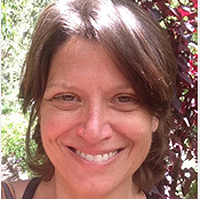 Immerse yourself in the heart-centered and nurturing divine feminine through the rites and ritual of the Nusta Karpay. These authentic sacred initiations of the Andean Earth Goddesses consist of a series of seven ancient Incan transmissions.
For men, awakening of the heart allows a deepening connection to your own inner knowing, tuning into your own feelings as well as the empathic feelings of others. For women, the same is experienced, coupled with an invitation to the wild untamed femininity that longs to be freed.
The magical energy of each Nusta connects to a corresponding chakra of the body's energetic system. A welcome note with guiding instructions will be sent to participants upon registration.
Christina Pateros is a painter, spiritual guide, healer, teacher, and steward of spiritual journeys to sacred lands. She owns a healing practice and also creates fine collectible paintings available through galleries and by commission. Her shamanic practice offers cleansing and clearing of beings and spaces. For more information, visit christinapateros.com.
TS Members: $65 • Nonmembers: $75 • $85 at the door
You can also join Christina Pateros on Thursday, November 7 for her talk Shamanic Rites, Rituals, and Initiations.