Saturday, November 16, 7:00 p.m.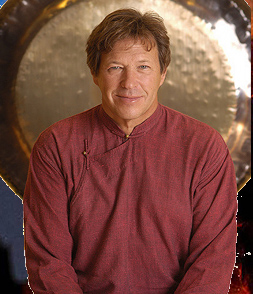 Join us for an immersive healing experience! A Gong Bath™ is a powerful vibrational journey that positively affects emotional balance, cellular healing, and spiritual awareness. An alchemy of eastern philosophy, bio-energetics, and quantum science, it is a powerful healing modality. During the Gong Bath, participants are bathed with rhythms, tonalities, and multi-tonal octaves that are naturally revitalizing, stress reducing, and profoundly healing—physically, mentally, and spiritually.
Richard Rudis, (Karma Sonam Dorje), has studied Eastern philosophy, principally Tibetan Vajrayana Buddhist practice, for thirty years. He was granted refuge in the Buddha from His Holiness Gyalwa Karmapa while in Tibet in 1996 and has been teaching Buddhist Dharma via vibrational sound healing workshops since 1988. He is a published writer, musician, and lecturer. Richard conducts his Gong Baths nationally. Visit www.sacredsoundgongbath.com for more information.
*Please note the day of this event has been changed to Saturday, November 16.*
This class is full, registration is closed.
You can also join Richard Rudis for a gong bath on Friday, August 23