with Marian and Gabriela Kraus
Saturday, September 7, 5:30 p.m. Auditorium, at Theosofest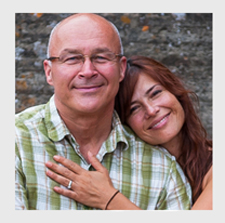 The goal in all healing, meditative, and spiritual pursuits is to raise an individual's awareness and vibratory frequency. Following a guided meditation, Marian and Gabriela generate a colorful bouquet of vibratory sounds and energetic rhythms by harnessing the ancient power of large gongs and singing bowls. The couples' inimitable sound excursions take listeners into otherworldly realms and provide a nurturing space for relaxation, healing, and introspection - all ideal portals to personal transformation.

Marian and Gabriela Kraus have studied gongs and sound therapy with renowned master teachers and bring a colorful life history with their European and Latin American origins. Their inherent artistic and musical abilities, years of studies in psychology and metaphysics, and life experiences in health and wellness-related TV programs and international corporate settings work together to facilitate a uniquely transformational and healing experience. Visit www.delamora.life for more information.
Please bring a pillow and blanket or mat to lie on.
$25 per person in advance, $30 at the door