Saturday, January 11, 1:00 – 4:00 p.m.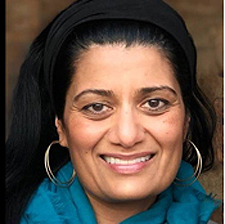 Do you or someone you love suffer with low energy, feeling overwhelmed, episodes of anxiety, insomnia, and/or pain? Maybe you are seeking a way to avoid brain disease and to have a strong brain for years to come. If so, this lecture will help you get to the root of your challenges. Brain disease is on the rise, and we must take action to prevent it. In this lecture, Dr. Gokani, a board-certified neurologist trained in Ayurvedic and Functional Medicine, will share her 4-step process to optimizing brain health.
Her proprietary process, which has been developed over a decade, incorporates western medical approaches alongside ancient wisdom and philosophy. Learn novel approaches using lifestyle, diet, supplements, teas, and mind work to enhance your natural brain function. You will learn about brain typing and how to use actionable steps to balance your body type, thus reducing your symptoms.
Dr. Trupti Gokani is a regular guest on the Dr. Oz show and is the author of The Mysterious Mind: How to Use Ancient Wisdom and Modern Science to Heal Your Headaches and Reclaim your Health. She is a physician trainer and speaker.
TS Members: $35 • Nonmembers: $40 • $45 at the door