Saturday, January 18 and Sunday, January 19, 9:00 a.m. – 5:00 p.m.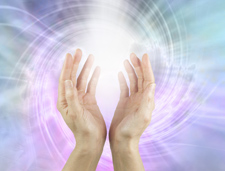 This course builds on the knowledge, skills, and insights acquired through the Therapeutic Touch Foundations course and regular TT practice. This course supports and enhances the learners' evolving and deepening understanding of Therapeutic Touch practice. It includes more hands on practice, reflective inquiry, and self-inquiry exercises. We will explore in-depth approaches for assisting individuals with a variety of health challenges. And, as always, peace and healing is the nature of the class for all who come. This course satisfies the second class required for the credential of Qualified Therapeutic Touch Practitioner (QTTP).
Please bring a vegetarian sack lunch each day. Tea, water, and snacks are provided for breaks. Bring a shawl or throw to keep you warm.
Marilyn Johnston-Svoboda, RN, EdD, QTTT, is a retired professor of nursing and is a member and educational trustee of the Therapeutic Touch International Association. Janet Dean, RN, QTTP, a registered nurse and a Qualified Therapeutic Touch Practitioner, has devoted nearly 20 years of her career to hospice care. She is author of Peaceful Passages: A Hospice Nurse's Stories of Dying Well . Lisa Leamy, RN, BSN, QTTP, is a Therapeutic Touch Practitioner at Marianjoy Rehabilitation Hospital and presents for the National Alliance on Mental Illness (NAMI) of DuPage.
$100 per person (includes a booklet and handouts)