Saturday, February 15, 10:30 – 4:30 p.m.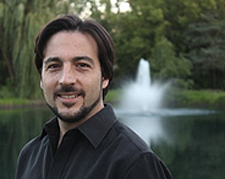 Based on the concepts presented in his Thursday night lecture, "A Cosmic Perspective on Human Consciousness," Pablo Sender will lead a series of guided meditations geared toward attuning our individual consciousness with its universal roots. The retreat will consist of four short presentations explaining the different techniques to be used, followed by 30-minute practice sessions, which will start with guided meditations before passing into silent work.
Pablo Sender, PhD, became a member of the Theosophical Society in his native Argentina and has presented Theosophical lectures, seminars, and classes around the world. He is the author of Evolution of the Higher Consciousness, and his articles have been published in several Theosophical journals. Learn more at his website: www.pablosender.com.
TS members: $60 • Nonmembers: $70 • $80 at the door
Join Pablo for his talk A Cosmic Perspective on Human Consciousness on Thursday, February 13.