Saturday, February 22, 10:30 a.m. – 4:30 p.m.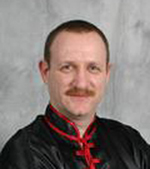 T'ai Chi Qigong Shibashi is a gentle, beautiful, flowing exercise routine that is energizing and deeply relaxing, bringing health and vitality to all who practice it. The gentle rocking motions and stretching movements improve circulation and digestion and reduce physical tension. The controlled breathing reduces stress and anxiety, helping calm the mind. It also helps regulate heart rate and blood pressure, boosting energy. T'ai Chi Qigong Shibashi is a gentle, yet highly effective exercise routine that is suitable for adults of any age or fitness level. You will be guided through simple forms and exercises to improve balance and flexibility, enhance breathing and circulation, and relax both body and mind.
Please wear comfortable clothing and flat shoes.
John Robertson has nearly 20 years of experience practicing and teaching T'ai Chi Ch'uan and qigong and is a student of Taoist philosophy. He is a Level 7 Certified Qigong Instructor with the World Ki Gong Club and a Certified Advanced Instructor and professional member of the National Qigong Association. John owns Seven Stars Martial Arts in Winfield. (www.7StarsMA.com).
TS members: $60 • Nonmembers: $70 • $80 at the door
Register for John's class Yang Style Simplified T'ai Chi Ch'uan (24 Postures) class beginning February 10.