The Ten Dharmas of Naropa
Friday, March 6, 7:00 p.m. – Sunday, March 8, 3:30 p.m.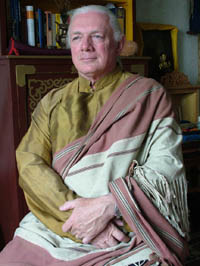 Of all lineages of enlightenment training in Tibet, one of the most popular and powerful is that known as Naro Chodruk, "The Six Dharmas of Naropa," which was translated into English in the 1930s as "The Six Yogas of Naropa." In fact, the six are always taught in connection with four supplementary Dharmas, making ten in all. The most important of the ten is tummo, or "Inner Fire." In this retreat, Lama Glenn Mullin will provide teachings and guidance that will establish participants in the basics of this yogic training.
Lama Glenn Mullin trained in Tibetan Buddhism in the Himalayas for 15 years, and has published some 30 books on Tibetan Buddhism. He has taught Buddhist meditation for the past 30 years, often touring for six months of the year through North America, Asia, and Europe. He also leads pilgrimages through the sacred sites of Nepal, Tibet, and Bhutan each year. For more visit www.glennmullin.com.
As space is limited, early registration is encouraged.
Retreat sessions, meals, private lodging—$350
Retreat sessions, meals, shared lodging—$250
Retreat sessions, meals—$175
Join Lama Glenn Mullin for his talk The Bodhisattva Ideal in Today's World on Thursday, March 5.