Saturday, May 9, 10:30 a.m. – 4:30 p.m.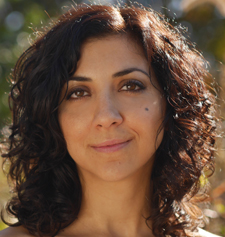 "To love is to know Me: thus one shares in my glory and enters into my boundless being. All his acts are performed in my service, and through my grace he wins eternal life." Bhagavad Gita 18:55-56
What is Divine cannot be conveyed or known through words or concepts, and the realization of Oneness is possible as we open up to what is already within us, in the center of our being. During this meditation retreat inspired by the sacred text The Bhagavad Gita, Juliana Cesano will lead a series of guided and silent practices, as well as direction for daily living.
Please bring your own vegetarian lunch.
Juliana Cesano is a second generation Theosophist and has been actively involved with the Society's work for over twenty years. She volunteered for two years at the international headquarters in Chennai, India, and has been part of the staff at the headquarters of the Theosophical Society in America for the last ten years. She is a certified yoga teacher, 200 CYT, and is currently the manager of the Quest Book Shop.
TS members: $60 • Nonmembers: $70 • $80 at the door
You can also join Juliana for her talk "The Bhagavad Gita for Daily Living" on May 7.