Saturday, May 30, 1:00 – 4:00 p.m.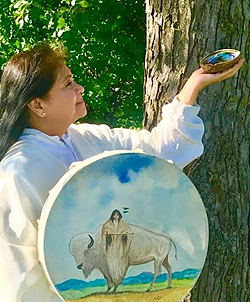 Experience a very unique retreat filled with important and empowering wisdom training from the tradition of the Medicine Woman. The Medicine Woman is in harmony with the breath of life which is at the center of our point of peace, grace, tranquility, healing, stillness, beauty, and life-changing happiness. Sometimes we forget this wonderful energy resides within our energy field and spirit.
The essence of the Medicine Woman training is refreshing, timeless and connects us with the Woman Spirit in all of us.
Topics include:
Medicine Woman sage kit and teaching circle instruction
The Woman Shaman instruction and energy training
Apache Feather Blessings for your energy field
How to set sacred energetic boundaries in wisdom filled ways
Aura enhancements to receive happiness
What divine timing is and how to use it
Billie Topa Tate' is the founder of MSI Wellness Center. She is Mescalero Apache and is dedicated to "Creating a Sacred Place One Person at a Time" through the indigenous native teachings of her teachers. Topa Tate' has lectured and taught at Northwestern University, The Cancer Treatment Center of America, and more. Her work has been published by several magazines, and she is the author of several meditation recordings. She is dedicated to being of service to anyone who is seeking wellness, mindfulness training, and spiritual growth.
TS members: $60 • Nonmembers: $70 • $80 at the door
includes books, handouts, and the Medicine Woman retreat tool kit. Register with a fellow Wisdom Keeper for good karma!
You can also join Billie for her talk "The Shaman's Life Lessons" on Thursday, May 28.