Saturday, June 13, 7:00 – 9:00 p.m.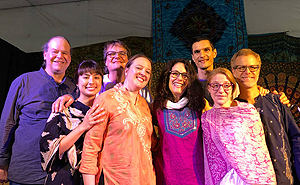 Kirtan is a musical form of meditation – a devotional practice that combines breath, mind-focusing, and sacred vibrations that are created by Sanskrit chants set to lively rhythms and soulful melodies. Playing, singing, and deeply listening to Kirtan can lift us into the higher aspects of who we are as human beings. This can help us to develop the spiritual qualities we seek to embody, such as forgiveness, acceptance, gratitude, compassion, and humility. Many believe that chanting is one of the most powerful known ways to elevate our spirit and transform our energy.
This musical genre can take us on an inner journey to a state of incredible joy and mental clarity. People from all walks of life discover Kirtan and fall in love with it. Join us. It is our sheer joy to share Kirtan with you. For more information about Rhada and The Bhakti Caravan, please visit their "The Bhakti Caravan Kirtan Band" Facebook page.
$10 in advance, $15 at the door