Saturday, June 13, 1:00 – 4:00 p.m.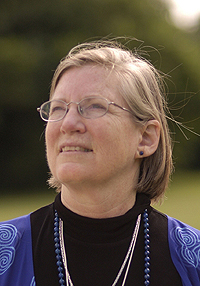 Learn how to communicate with, see, and photograph life forms of other realms who co-exist with us on earth. Find out how trees communicate with each other, and connect to Earth's energy grid and the local devas who work with them. Become attuned to how trees express their feelings through the images they generate on their personal canvas—their trunks. It truly is a remarkable experience to connect with nature spirits and it will forever change how you take a walk in nature.
We will explore the Theosophical Grounds, where a wide variety of nature spirits are in residence. Bring a camera or a cell phone and dress for hiking as we will be traveling off-trail. In case of rain, the event will be rescheduled for Sunday, June 14, 1:00 – 4:00 p.m.
Atala Toy is a savant whose talent is the ability to communicate with nature; she states that in all other ways she is quite ordinary. Atala has written several books on communication with nature, is a professional photographer of nature spirits, and is president of Crystal Life Technology in Geneva, IL, a store that specializes in natural living products and stones.
TS members: $30 • Nonmembers: $35 • $40 at the door