Saturday, July 25, 1:00 – 4:30 p.m.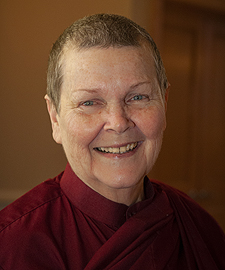 As more and more people become interested in meditation, the technology market has responded with phone apps, YouTube videos, podcasts, audiobooks, and more. While these can be helpful, the most time-honored, proven method is to study in person with a teacher. Bhikkhuni Vimala will work with students to help them develop a personal practice plan based on their unique lifestyles and intentions. Discover postures and styles of sitting and walking meditation that will work with your unique body temperament. Together, the group will sit for guided meditations, working with mindfulness of the breath and body, compassion, and loving-kindness. There will be time at the end for questions and discussion about specific needs or challenges.
Bhikkhuni Vimala is an ordained Buddhist nun practicing in the Theravada tradition. She leads meditation and other classes at Blue Lotus Temple in Woodstock, IL, where she is the only female monk. In addition to weekly meditation groups in Wisconsin, Vimala travels regularly to Nevada and California for meditation workshops and classes.
TS members: $30 • Nonmembers: $35 • $40 at the door