Saturday August 27, 1:00 – 4:00 p.m.
$30 members · $40 nonmembers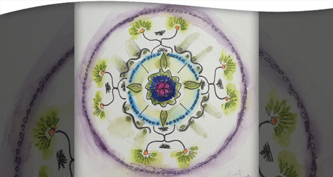 In the Andean mystical Qero tradition, Pachamama is the feminine expression of universal consciousness in a most embodied form. Through ritual and ceremony, including guided shamanic journeying, Earth-honoring living mandala creating, and connecting to the spirits of the land, we gather in community with sacred intention, celebrating the interconnectedness of all beings and our personal place in the living Cosmos.
Come dressed comfortably for both indoor and outdoor time. Feel free to bring portable sacred or ceremonial objects for your own personal honoring place as well as a communal altar. (All objects will be returned). Herbs, flowers, and other organic offerings are welcome for the mandala creation.
$30 members · $40 nonmembers
Location: 1926 N. Main Street, Wheaton, IL
Christina Pateros, RN, MA, bridges healing between the western and indigenous worlds as a global spiritual guide, ceremonialist, and initiate of the Qero indigenous mytics of the Andes. As a hospice and ketamine-assisted nurse therapist, an artist, author, healer, teacher and presenter, grounding in eco-centric ritual, ceremony and practices, Chris' seeking and mystical soul-seeing has awakened her spirit to support others to own and share their potent gifts in the world. By guiding groups and circles in embodied conscious living and dying practices as well as sacred art creation, she guides shamanic energy and earth practices internationally through workshops, presentations and private client work. Chris earned her Master of Arts in Ecopsychology from Naropa University. She is currently creating for her solo art exhibition REMEMBER, in Kapsali, Kythira, Greece in September 2022 and preparing to lead an Andean mystical journey in the Sacred Valley Peru in November 2022. Part of her flourishing life includes spending precious time with her two adult daughters. Chris lives gratefully immersed in nature in Boulder, Colorado at the foothills of the Rocky Mountains, and in Chicago, Illinois, also spending extended time in Kythira, Greece, the place of her paternal ancestors. To learn more, visit SpiritFilledJourneys.com, ChristinaPateros.com, and Whispering-Stones.com.
COVID Safety Policy
At this time, masks are optional inside and outside the building. View our full policy statement here.