Friday, October 7, 7:00 p.m.
$30 in advance · $35 at the door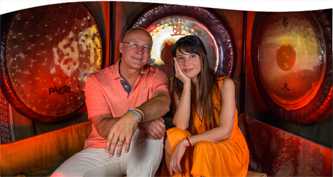 For millennia, people of different cultures have used gongs to access and reconnect with their essence and higher consciousness through sound. Experience a uniquely layered, multi-dimensional tapestry of sounds designed to deeply relax and invigorate you simultaneously. This soothing and healing environment of ambient sounds generated by five large gongs and other sound tools will reset your mind and body.
Courage is the choice and willingness to confront agony, pain, danger, uncertainty, or intimidation. It is an indispensable and powerful aspect in overcoming inner obstacles and hurdles when the going gets tough in the face of adversity or repeated setbacks. This introduction and guided meditation will focus on the inner quality of courage.
$30 in advance · $35 at the door
Location: 1926 N. Main Street, Wheaton, IL
Gabriela and Marian Kraus provide the vehicle to a guided meditative and transformational sound journey. Participants are presented with an opportunity to lift their awareness about limiting beliefs and how to transform them. Both have studied gongs and sound therapy with renowned master teachers, and with their European and Latin American origins posses a colorful life history. Their inherent artistic and musical abilities, years of studies in psychology and metaphysics enhanced through experiences in health and wellness-related TV programs and international corporate settings, work seamlessly together to facilitate a truly unique experience. Visit www.delamora.life for more information.
COVID Safety Policy
At this time, masks are optional inside and outside the building. View our full policy statement here.