Saturday, June 10, 1:00 – 3:00 p.m. CT
$65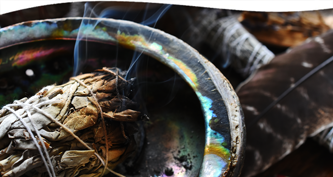 Organic indigenous purification kits are a wonderful tool to have, and the creation of the kits themselves is also beneficial, lifting negative energy from the body, mind, and spirit. For thousands of years, the use of natural healing botanicals such as lavender, sage, cedar, and many other indigenous plants have been used by indigenous American shamans.
This workshop provides training on how to use natural plants, create sacred intentions, and make a handmade smudging kit for personal use.
This workshop includes:
Wisdom information about the smudging energy
Songs to activate your healing plants
Techniques to create lavender, cedar, and other plant bundles
Beautiful stories shared while making your smudge kit
Indigenous handmade organic pouch-filling protocols
Indigenous training on sacred harvests, crystals, and plant spirit information
Techniques to work with your kit
Sacred intention techniques for your smudge kit
Personal work stations for plants and cleansing practices
Grandmother Moon wisdom sharing
Closing circle and sharing circle
All supplies are included. Register with a friend for a wonderful experience. Work
stations for all students will be available.
Location: 1926 N. Main Street in Wheaton, IL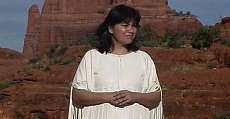 Billie Topa Tate is the founder of MSI Wellness Center. She is Mescalero Apache and is dedicated to "Creating a Sacred Place One Person at a Time" through the indigenous native teachings of her teachers. Topa Tate has lectured and taught at Northwestern University, Cancer Treatment Centers of America, and more. Her work has been published in several magazines, and she is the author of several meditation recordings and books. She is dedicated to being of service to anyone who is seeking wellness, mindfulness training, and spiritual growth. Learn more at her website: msi-healing.com.