Thursday, October 17, 7:00 p.m.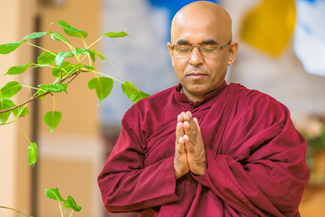 Many of us spend a lot of time and energy trying to fix ourselves, our loved ones, and our world. We categorize things as good or bad and right or wrong, and try to make everything fall into the "good" and "right" categories. While this is very well intended, it can be tiring and overwhelming to try so hard to make everything "better." Instead, let us focus on the middle path, the gentle road that reminds us that we are already good enough as we are.
Bhante Sujatha, a Buddhist monk for over 35 years, is singularly focused on adding more love in the world. Bhante teaches loving-kindness meditation to people around the globe for all those seeking the art of happiness and contentment. His approach to meditation is deep and simple, bringing core Buddhist teachings to everyone in a way that is practical and easy to understand. A joyful, radiant, funny, and wildly energetic monk, Bhante will help you obtain the peace that can only be found in deep silence. Originally from Sri Lanka, he is the head monk/abbot of the Blue Lotus Buddhist Temple and Meditation Center in Woodstock.
TS Members: free • Nonmembers: $10 in advance, $15 at the door
You can also join Bhante Sujatha for his Weekend Meditation Retreat October 18 – 20.