Thursday, February 6, 7:00 p.m.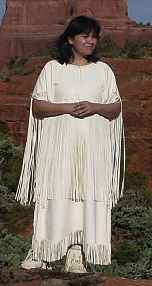 View a rare glimpse into the landscape and realm of the Spirit World. Billie Topa Tate' shares her Native American wisdom and beautiful personal stories about the ethereal world, often known as the place of light where our divine helpers, spirit guides, totems, angels, and teachers in spirit reside. Our inner plane helpers, or "energetic resources," have a great purpose to be of service and to guide our journey in powerful and virtuous ways. Learn why we are often provided assistance, as well as the various realms which are ever present in vibration and wisdom.
Billie Topa Tate' is the founder of MSI Wellness Center. She is Mescalero Apache and is dedicated to "Creating a Sacred Place One Person at a Time" through the indigenous native teachings of her teachers. Topa Tate' has lectured and taught at Northwestern University, The Cancer Treatment Center of America, and more. Her work has been published by several magazines, and she is the author of several meditation recordings. She is dedicated to being of service to anyone who is seeking wellness, mindfulness training, and spiritual growth.
TS members: free • Nonmembers: $10 in advance, $15 at the door
Join Billie for Full Moon Native American Drumming on Saturday, February 8.