Thursday, February 13, 7:00 p.m.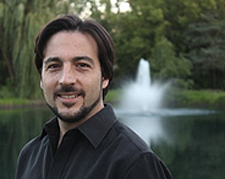 Modern spirituality frequently regards spiritual practitioners as individuals, but the Theosophical tradition offers a cosmic account of the origin and essential nature of human consciousness. This approach regards the individual as a microcosmos – a limited reflection of a multidimensional cosmos that includes physical, intellectual, and spiritual aspects. Learn more about this concept, including the unique set of tools for meditation and daily practice it provides.
Pablo Sender, PhD, became a member of the Theosophical Society in his native Argentina and has presented Theosophical lectures, seminars, and classes around the world. He is the author of Evolution of the Higher Consciousness, and his articles have been published in several Theosophical journals. Learn more at his website: www.pablosender.com.
TS members: free • Nonmembers: $10 in advance, $15 at the door
Join Pablo for his Cosmic Meditations workshop on Saturday, February 15.