Thursday, May 14, 7:00 p.m. CDT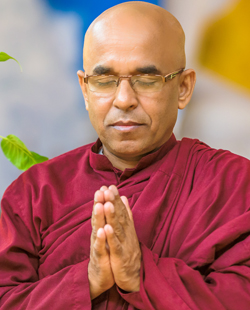 While no person is free from suffering and pain throughout their lifetime, more and more people have been causing their own additional suffering. Often, they point fingers and put blame on others rather than to search for the true root of their negative emotions. The Truth remains: if you want to release suffering and pain, you must begin by changing your words, thoughts, and actions. It is only then that you will experience rebirth into happiness and peace. Suffering is optional, and so is happiness. Which will you choose?
Bhante Sujatha, a Buddhist monk for over 35 years, is singularly focused on adding more love in the world. Bhante teaches loving-kindness meditation to people around the globe for all those seeking the art of happiness and contentment. His approach to meditation is deep and simple, bringing core Buddhist teachings to everyone in a way that is practical and easy to understand. A joyful, radiant, funny, and wildly energetic monk, Bhante will help you obtain the peace that can only be found in deep silence. Originally from Sri Lanka, he is the head monk/abbot of the Blue Lotus Buddhist Temple and Meditation Center in Woodstock, IL.
TS members: free • Nonmembers: $10 in advance, $15 at the door