Thursday, May 28, 7:00 p.m. CDT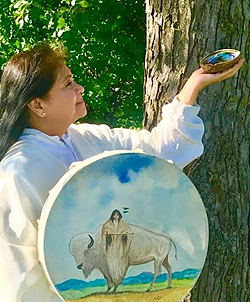 The Shaman walks in multiple worlds of universal principles that guide his or her spirit to more knowledge and wisdom regarding the sacred journey we call life, and the kingdoms of life that co-exist with us. Join Billie Topa Tate' as she shares her Mescalero Apache wisdom on how the universe works. Powerful messages expressed by the Shaman can clearly shed light on, and impart meaningful messages for, our own life journeys.
Billie Topa Tate' is the founder of MSI Wellness Center. She is Mescalero Apache and is dedicated to "Creating a Sacred Place One Person at a Time" through the indigenous native teachings of her teachers. Topa Tate' has lectured and taught at Northwestern University, The Cancer Treatment Center of America, and more. Her work has been published by several magazines, and she is the author of several meditation recordings. She is dedicated to being of service to anyone who is seeking wellness, mindfulness training, and spiritual growth.
You can also join Billie for her workshop The Woman Spirit Medicine Retreat: Awaken the Medicine Woman Within on May 30.
TS members: free • Nonmembers: $10 in advance, $15 at the door