FREE WEBCAST
Thursday, December 16, 7:00 p.m. CST
The great challenges of the world—and our lives—can be solved by merging the wisdom of the past with the best science of today. So says quantum activist, pioneer, and author Amit Goswami, Ph.D. In this workshop, we will catapult light-years beyond conventional thinking about our capabilities and potential. In an intimate presentation of easy-to-grasp science and true-life events, Amit will demonstrate how the marriage of science and spirituality and the cooperation of scientists and mystics can open the door to a new worldview.
We will address the broad aspects of the spiritual heart (which, not by coincidence, is called by many "our home") from a variety of traditions, such as Christianity, Buddhism, Sufism, and Hinduism, blended naturally with the quantum science viewpoint.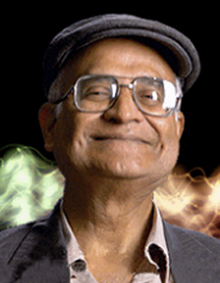 Amit Goswami, Ph.D. is a retired professor of physics from the University of Oregon where he served from 1968-1997. In 1985, he discovered the solution to the quantum measurement problem and developed a science of experience explicating how consciousness splits into subject and object. Subsequently, he developed a theory of reincarnation and integrated conventional and alternative medicine within the new quantum science of health. Among his discoveries are the quantum theory of the creative process, the theory of quantum evolution, the science of love and happiness, the theory of quantum economics that extends Adam's Smith's capitalism into a workable paradigm for the 21st century, and the theory of quantum spirituality based on the exploration of wholeness. In 1999, Amit started a movement called quantum activism, now gaining ground in North and South America, Europe, and India. In 2018, he and his collaborators established Quantum Activism Vishwalayam, an international institution of transformative education in India, based on quantum science and the primacy of consciousness. Amit is the author of numerous books, most notably: The Self-Aware Universe, Physics of the Soul, and The Quantum Doctor. He was featured in the movie What the Bleep Do We Know!? and the documentaries Dalai Lama Renaissance and The Quantum Activist. Amit is a spiritual practitioner and calls himself a quantum activist in search of Wholeness.
This program will be streamed live on YouTube, Facebook, and our website on December 16 at 7:00 p.m. CST.