FREE WEBCAST
Thursday, June 9, 7:00 p.m. CDT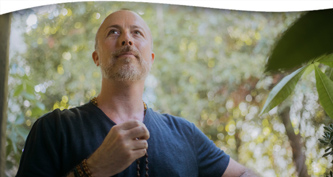 Scott Schwenk, who playfully refers to himself as a "meditation whisperer," is a celebrated teacher who is committed to supporting those who are deeply called to the work of "Waking Up, Growing Up, Cleaning Up, and Showing Up." When we are true to the Present moment, we experience an ever deepening capacity to embody Love, which has no outer cause, and be free from attachment to this world while wholeheartedly engaging in life. Scott teaches various practices to aid in this work, such as breathwork practices, meditation, and mantra. John Cianciosi, Director of Public Programs for the Theosophical Society, will share a dialogue with Scott and explore the many aspects of this spiritual practice for "waking up."
Scott Schwenk's teaching, through a mixture of dharma talks, meditations, and breathwork practices, guides seekers to explore their deepest selves leading them to live their lives free from tension and full of trust. Known for his hugely popular Wanderlust Festival workshops, his Unplug teaching, and online trainings, Scott has been catalyzing the inner evolution of others for decades: helping them to grow, transform obstacles into opportunities, and find Love within. Scott spent several years living and studying in a Hindu monastery which introduced him to the core body of Tantric traditions, which continue to flow through each of his teachings. Apprenticeships in leadership development, meditation and philosophy training, spiritual awakening, and Vedic rituals were all part of Scott's development into the thought-leader that he is today.
This program will be streamed live on YouTube, Facebook, and our website June 9 at 7:00 p.m. CDT.
You can also sign up for Scott's workshop Why You Should Care about Mantra here.