Theosophical Classic 1991
FREE WEBCAST
Thursday, July 7, 7:00 p.m. CDT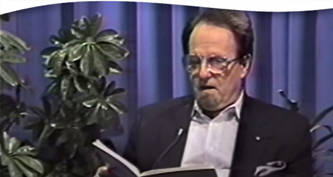 We invite you to watch this special lecture from the Theosophical archives!
In this 2-part interview from 1991, Linda Jo Pym interviews Gnostic scholar Stephan Hoeller on the idea that Theosophy has an intimate connection with myth. Hoeller claims that Madame Blavatsky understood that myth, rather than being an untruth or outright lie, actually was a favorite method of the ancients for conveying universal truths.
In part one of this program, Hoeller explores the mythic dimension of Theosophical teachings as given by Madame Blavatsky.
You can watch part 2 on Thursday, July 14.
Stephan A. Hoeller is an American author, scholar and proponent of esoteric tradition and religion. He was born in Budapest, Hungary, of Austro-Hungarian nobility. Exiled from Hungary following World War II and subsequent Communist rule, he studied in academic institutions in Austria, Belgium, and Italy. In 1952 he emigrated to the United States, and has since resided in Southern California. An author and scholar of Gnosticism and Jungian psychology, Hoeller is the Regionary Bishop of Ecclesia Gnostica, and the senior holder of the English Gnostic transmission in America. He has lectured in Australia, New Zealand, England, Europe, and the US. He is a national speaker for the Theosophical Society of America.
This program will be streamed live on YouTube, Facebook, and our website on July 7 at 7:00 p.m. CDT.