FREE WEBCAST
Thursday, July 28, 7:00 p.m. CDT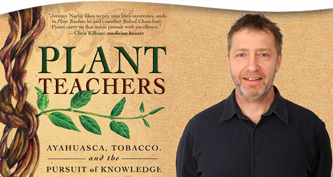 Trailblazing anthropologist and bestselling author Jeremy Narby shares information and anecdotes from his newest book Plant Teachers: Ayahuasca, Tobacco, and the Pursuit of Knowledge.
Narby first learned of the shamanic uses of ayahuasca and tobacco while conducting fieldwork in the Amazon region decades ago. After witnessing the transformative power of these mind-altering plants, he embarked on a quest to understand their effects on human consciousness. This search led him to indigenous elder Rafael Chanchari Pizuri, who educated him about the proper way of approaching these powerful plant teachers.
In this interview, Jeremy explores what he learned from Pizuri, including the similarities between ayahuasca and tobacco, the role of these plants in indigenous cultures, and the hidden truths they reveal about nature.
Jeremy Narby, PhD, and Rafael Chanchari Pizuri are the authors of Plant Teachers. Jeremy became an early pioneer of ayahuasca research while living with the Ashaninca people of the Peruvian Amazon in the 1980s. He studied anthropology at Stanford University and now lives in Switzerland and works as Amazonian projects director for Nouvelle Planète, a nonprofit organization that promotes the economic and cultural empowerment of indigenous peoples. Rafael Chanchari Pizuri is a native of the Peruvian Amazon, an elder of the indigenous Shawi people, and a traditional healer. He lives in Iquitos, Peru, and teaches there in a bilingual education program.
This program will be streamed live on YouTube, Facebook, and our website on July 28 at 7:00 p.m. CDT.