FREE WEBCAST
Thursday, January 12, 7:00 p.m. CT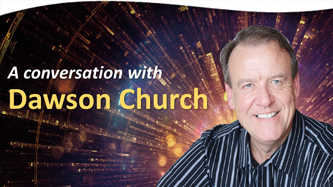 This program is available to all thanks to the generous support of Marilyn K. Johnston-Svoboda and Paul J. Svoboda*.
Dr. Dawson Church is an award-winning science writer with three best-selling books to his credit. The Genie in Your Genes was the first book to demonstrate that emotions drive gene expression. Mind to Matter showed that the brain creates much of what we think of as "objective reality." Bliss Brain demonstrates that peak mental states rapidly remodel the brain for happiness.
In this interview, author and Quest magazine editor Richard Smoley will speak with Dr. Church about some of his findings. Together, they will explore evidence-based medicine, how emotions affect the body and the genes, the role of the brain in constructing our perceptions of reality, and EFT "tapping," a simple method for overcoming psychological stresses and disorders.
Dawson Church, Ph.D., did his undergraduate and graduate work at Baylor University, and obtained his doctorate at Holos University under the supervision of Harvard-trained neurosurgeon Norm Shealey, M.D., Ph.D., founder of the American Holistic Medical Association.
Dr. Church has conducted dozens of clinical trials and founded the National Institute for Integrative Healthcare to study and implement promising evidence-based psychological and medical techniques. Its largest program, the Veterans Stress Project, has offered free treatment to over 20,000 veterans with PTSD over the past decade. His groundbreaking research has been published in many prestigious scientific journals. Dawson Church is the editor of Energy Psychology: Theory, Research, & Treatment, a peer-reviewed professional journal. He shares how to apply these breakthroughs to health and athletic performance through EFTUniverse.com, one of the most-visited alternative healing sites on the web.
This program will be streamed live on YouTube, Facebook, and our website on Thursday, January 12, at 7:00 p.m. CST.
*To learn about sponsoring a lecture, please contact us at giving@theosophical.org.