Right Listening in the Silencescape:
Meditative Deep Listening to Advance Mutual Recognition and Interfaith Appreciation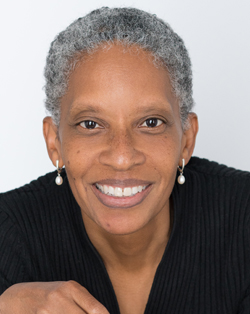 What public figures do you point to as examples of really good listeners? In the soundscape of U.S. culture, there seems to be little to no "silencescape"—the absence of communication specifically for the purpose of taking in, understanding, appreciating, and perhaps being changed by what has been consumed. In this presentation, pastoral counselor and artist Pamela Ayo Yetunde, a Community Dharma leader and Zen Buddhism student, will share what she has learned from her meditation practices to support deeply listening to her clients. She will use teachings from the Noble Eightfold Path to suggest an additional path factor, Right Listening. Practicing Right Listening in the silencescape can help advance a culture of mutual recognition and interfaith appreciation.
Pamela Ayo Yetunde, J.D., M.A., Th.D., is a pastoral counselor, professor, and writer. She wrote Casting Indra's Net: Fostering Spiritual Kinship and Community, and co-edited Nautilus Book Award-winning Black and Buddhist: What Buddhism Can Teach Us about Race, Resilience, Transformation, and Freedom with Cheryl A. Giles. Yetunde is also the author of the Frederick J.Streng Award-winning Buddhist-Christian Dialogue, U.S. Law, and Womanist Theology for Transgender Spiritual Care and Object Relations, Buddhism, and Relationality in Womanist Practical Theology. In response to the torture and killing of George Floyd, Ayo became the principal founder of Buddhist Justice Reporter (www.buddhistjustice.com) and was recognized in 2022 by the International Women's Meditation Center Foundation as one of the Outstanding Women in Buddhism. Yetunde earned a M.A. from Holy Names University, a J.D. from Indiana University School of Law-Bloomington, a Th.D. from Columbia Theological Seminary, and did her post-doctoral research at Harvard Divinity School.