Eternal Law and Transcending Religion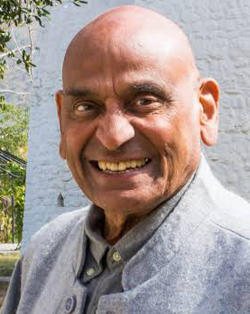 Religions organized around a particular historical or mythological event or person naturally tend to become exclusive by insisting that they alone have the path to the Real. Such religions have done more harm to spiritual search than any other organization. God, or Truth, cannot be Christian or Muslim or Hindu. It is important for a spiritual seeker to be free of attachment to any specific and exclusive dogma. A pilgrim soul needs to follow a path to the Sacred that transcends world religions. Santana Dharma (Eternal Law), labeled as Hinduism, has some universal features that will be addressed during this presentation.
Ravi Ravindra, Ph.D., is an author and professor emeritus at Dalhousie University in Halifax, Nova Scotia, where he served as a professor in comparative religion, philosophy, and physics. A lifetime member of the Theosophical Society, Ravi has taught many courses at the School of the Wisdom in Adyar and at the Krotona Institute of Theosophy in Ojai, California. He was a member of the Institute of Advanced Study in Princeton, a fellow of the Indian Institute of Advanced Study in Shimla, and the founding director of the Threshold Award for Integrative Knowledge. For more information visit http://www.ravindra.ca/.